Undertale Is Teasing Something New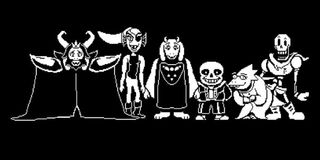 (Image credit: Toby Fox)
There's something brewing in the world of Toby Fox's Undertale. The game came out way back in 2015 for PC and later for home consoles. The Kickstarted project turned out to be a big indie success, and now there appears to be something new being teased for the title, but the upcoming content is one big mystery.
The news comes courtesy of a tweet from the official UnderTale Twitter account. All it says is "Welcome." What exactly does that mean, though?
There are a number of responses to the tweet, with various possibilities spilling out of the minds of fans and into the Twitter thread. One of the more liked comments suggests that a character in the game named Sans might be announced as an addition to Nintendo's Super Smash Bros. Ultimate for the Switch, which is due out this December.
Is it a possibility? It seems like a little bit outside the realm of the kind of character Nintendo would add to a game like Smash Bros., especially since if any indie character was being added to the game, it would likely be Shovel Knight from the eponymous game made by Yacht Club Games. Then again, Nintendo is hosting another Direct on November 1, so maybe we shouldn't completely rule out a Smash Bros., related announcement.
Since the game is already available for home consoles and PC, it's unlikely that another platform release is in the works, unless it's something mobile related?
According to PushSquare, there are a number of follow-up tweets from Toby Fox that indicate that something would be announced on October 31, which informed gamers to return to the Twitter account for more information in 24 hours.
PushSquare ventures to question if the announcement could be related to an Undertale 2 or perhaps something related to a spin-off for the game?
The site also reports that Fox has been asking gamers within the community a number of questions, so maybe there's some new DLC in the works? The tweets are part of several other unthreaded tweets on the account that mention that Fox will ask the community a number of questions and then attempt to bring the project to its full realization, also noting that it's a ways off, whatever it is.
Given that Fox mentions that it's working on something new, it likely means that it could be a new IP. However, a new IP would likely mean that the announcement for feedback would come from a more natural account ran by the developer instead of the Twitter account for Undertale. This leads credence to the idea that it could be an Undertale 2.
Destructoid speculates that it could be anything, from a survey linked to a video to a demo for the PC version of the game on Steam. I tend to doubt that there would be a build-up of anticipation for a PC demo, though. Would a New Game Plus make sense? How about a new playable character in the game? An extra story for the current game?
Of course, given the strange nature of Undertale it could end up turning out to be anything. We'll find out exactly what the big announcement is tomorrow.
Your Daily Blend of Entertainment News
Staff Writer at CinemaBlend.