Someone Gave A Video Game To The Pope, Here's What We Know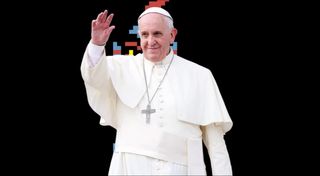 (Image credit: Matthew Patrick)
The Pope met with a bunch of YouTubers, one of which was Matthew Patrick from Game Theory. When meeting with the Pope it's a tradition to give the Holy one a gift. So Patrick gave the Pope a video game... Undertale, to be exact.
Gamespot is reporting that various YouTubers were invited to Rome to meet with Pope Francis, because he was on a mission to talk to some of the biggest influences on new media to talk about how important it is to use the platform to help bring people together, to teach tolerance and to help impart empathy on one another.
Patrick posted a 16 minute video on his YouTube channel explaining how he met the Pope and spoke at the meeting about YouTube culture. In the video Patrick breaks down how it's customary to bring the Pope a gift and something "representative" of the home country's culture. So what did he bring the Pope? A copy of Undertale.
Patrick goes through his reasoning for coming to that conclusion. He mentions that in media -- especially traditional gaming media -- gamers and game culture are perpetually demonized. We have incessant reports about video games influencing gun violence (even though research has shown that there is no connection, according to Bloomberg), we have incessant reports and cultural critics stating that video games turn gamers sexist (even though research has shown that this isn't the case, according to Forbes) and we have the media constantly going on about how hateful, violent, destructive and degenerate gaming is.
This led Patrick to the conclusion that he should find some way to bring something positive about game culture to the forefront of his meeting with the Pope to steer away from all the negativity that has surrounded the industry, especially as of late.
So Patrick grabbed a Steam code and gave it to Pope Francis.
The video goes through a number of sociological theories while explaining that Undertale's layered inclusion of empathy toward the monsters makes it a good representation of gaming. Gamespot pulled a quote from the video where Patrick states...
Patrick makes some interesting points that a lot of people shape their opinions about games based on what the mass media talks about, which is usually GTA, Call of Duty and Assassin's Creed. Now it isn't really true that those three franchises have shaped negative perceptions about video games in the media. Heck, well before those games made it to the market there was DOOM, Custard's Revenge and Mortal Kombat sending the media into hysteria.
Nevertheless, Patrick had an epiphany when he was at a talk with other game developers and publishers and asked how many of them were aware of Five Nights at Freddy's, and less than 5% of the room raised their hand. He realized that if the game makers weren't aware of popular games that gamers are playing, why would the average person be aware of these games? It's a good point.
It's one of the reasons that led him to choosing Undertale, because he wanted something representative of gaming that most people wouldn't know about but promotes a message of empathy through choice.
Originally I wasn't keen on the selection, as something akin to the likes of Journey or flOw would have seemed more befitting, but after Patrick gives his reasoning it makes a lot more sense. Now I'm just wondering if the Pope fired up his Steam account and actually gave Undertale a go?
Staff Writer at CinemaBlend.
Your Daily Blend of Entertainment News
Thank you for signing up to CinemaBlend. You will receive a verification email shortly.
There was a problem. Please refresh the page and try again.