Four Huge Valve Games Now Look Better On Xbox One X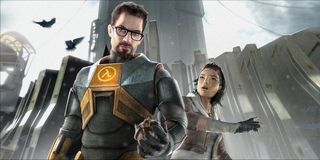 Microsoft continues to court publishers and developers from the Xbox 360 era to port their games over to the Xbox One and Xbox One X. One surprising deal that Microsoft managed to make was with Valve, which gave the thumbs up to allow four of its biggest games to make their way onto the Xbox One, along with the added bonus of being enhanced for the Xbox One X.
There are four games made backwards compatible for the Xbox One, and they also come with 4K enhancements for the Xbox One X, as revealed over on Major Nelson's Twitter account.
Technically there are more than four games, given that one of those games is the Orange Box, which comes with several games in a pack. So, there's the original Portal that came out back in 2007 for PC, PS3 and Xbox 360, there's Left 4 Dead, the follow-up Left 4 Dead 2, and then there's the Orange Box that contains Half-Life 2, Half-Life 2: Episode One, Half-Life 2: Episode Two, and Team Fortress 2.
The real highlight isn't just that each of these four games are now backwards compatible, but it's also that each of the games have been enhanced specifically to take advantage of the Xbox One X's extra horsepower.
The enhancements include better visuals, along with higher resolutions for the Xbox One X versions of the game. Major Nelson doesn't mention if this includes more stable frame-rates for games like Left 4 Dead 2, especially during split-screen play, but I'm pretty sure frame-rate stability is one of the basic enhancements made available for the game.
Additionally, the higher resolutions are enabled for upscaled 4K output. So if you have a 4K UHD TV and an Xbox One X, you will be able to play the games at upscaled 4K.
Many of these games may be from the older Xbox 360 era, but giving them a slight bump up in graphical fidelity will likely lure some console gamers back into the fold to see how they run on the Xbox One X.
Others might find this kind of news bittersweet, because if you haven't played through Half-Life 2 yet and you decide to finally play through the game from start to finish, you'll likely be disappointed at the fact that it ends with a major cliffhanger. There was supposed to be a Half-Life 3 but we all know about the meme surrounding that game.
Left 4 Dead and Left 4 Dead 2 also end on cliffhangers but are a lot more palatable than Half-Life 2. Also, it's interesting that the first Portal arrived as a backwards compatible title after Portal 2. Both games, however, are Xbox One X enhanced, joining 19 other backwards compatible games that are also enhanced for the Xbox One X.
There isn't much mention of how Team Fortress 2 performs on the Xbox One X, but fans are already sending Microsoft suggestions for the next batch of backwards compatible titles, including a couple of Dragon Ball games.
Staff Writer at CinemaBlend.
Your Daily Blend of Entertainment News
Thank you for signing up to CinemaBlend. You will receive a verification email shortly.
There was a problem. Please refresh the page and try again.