How You Can Play Battlefield V For Free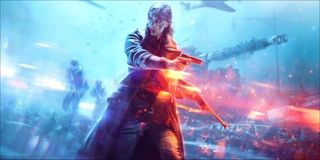 (Image credit: Electronic Arts)
Heading into December offers some neat little rewards for gamers for doing nothing more than being a gamer. A good example of that is being able to try out DICE's new Battlefield V for free for a week by completing a very simple little task that won't cost you anything but a few minutes of your time. But you better hurry.
Over on the EA Help Twitter account it was announced that gamers will be able to play Battlefield V for free along with gaining access to a basic Origin Access account with a seven-day free trial. Origin Access is the PC version of the EA Access service that Xbox One gamers have access to.
All you have to do is direct message the EA Help Twitter account with #TRYBFV and you will be set up with a code that will allow you to check the game out for free.
Some people took the opportunity to message the help account directly in the Twitter thread, and oddly enough the account responded with a code right there in the public thread. What this means is that people who requested a code are receiving their codes in public, which means anyone can take them and use them. A few people reminded gamers to direct message the account instead of asking for a code in public.
However, the oddest thing about it is that a large portion of people who are responding to the tweet are actually FIFA players.
It turns out that many FIFA 19 players are still waiting for their points to arrive after having paid for the points. There are a number of gamers disgruntled about not having received the points after waiting a week.
Further into the thread, however, things eventually get back to normal and you see more people requesting codes to try out Battlefield V.
The free trial for the first-person shooter will give you access to the multiplayer competitive modes as well as the game's War Stories, which is the single-player story mode featuring three playable campaigns that stretch across the globe, tackling some of the lesser-known events that transpired throughout World War II.
I don't know if now is the best time to give out the trial since the game isn't complete. For those of you who don't know, while certain modes were squeezed in at the last minute after previously being announced as not making the cut (such as the Grand Operations mode), certain modes are still a ways out from release, such as the Battle Royale mode, which won't be available until early 2019. There's also another entry in the campaign mode but it won't be available until December 4th.
Nevertheless, if you were curious about Battlefield V and wanted to give the game a try over the weekend, along with gaining access to a week's worth of the Origin Access, which allows you to download and try out games from EA's library, you can do so right now.
Your Daily Blend of Entertainment News
Staff Writer at CinemaBlend.