Here Are The Battlefield Goodies You Get If You're An EA Access Or Origin Access Member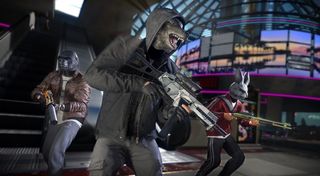 Electronic Arts and DICE have announced that in addition to the free DLC they're giving away for Battlefield 4 and Battlefield Hardline, they're also giving away even more free DLC for EA Access and Origin Access members.
Game Informer is reporting that if you're subscribed to EA Access on the Xbox One, or if you're subscribed to Origin Access on PC, you'll be able to receive some of the main DLC packs for Battlefield 4 and Battlefield Hardline... for free.
According to the article, there's a total of eight DLC packs, four packs for Battlefield 4 and four packs for Battlefield Hardline. For the former that likely includes the China Rising, Second Assault, Naval Strike and Dragon's Teeth, and for the latter that's Robbery, Blackout, Getaway and Betrayal.
For gamers who aren't subscribed to EA Access or Origin Access, they have been able to get some free DLC regardless of lacking a subscription to either service. In fact, for Battlefield 4 gamers have been given access to Dragon's Teeth for free. For Battlefield Hardline they were given the Robbery expansion for free.
If you already own the packs due to the season pass, then there's nothing really new here about this news. However, if you didn't lay down the $50 for the season pass for either game, then it's an opportunity to get your hands on some fresh DLC for both games at no extra charge. If you're paying the subscription fee for Electronic Arts' digital service(s), then the free DLC happens to be a bonus attached to the subscription.
If you don't own the season passes and you aren't subscribed to either EA Access or Origin Access, you'll have to pony up $15 each for the separate DLC packs. In total you're looking at $120 worth of DLC that Electronic Arts is giving away for both games.
The sale is part of the company's promotion to hype up Battlefield in line with the new announcement for the Frostbite-powered Battlefield 5.
The world premiere is set to take place on May 6 and we're expected to see more of the game when E3 rolls around and the EA Play gets underway on June 12. I'm curious if the world premiere will just be a teaser trailer or an actual reveal? If it's a teaser trailer then expect the full trailer to go on display at the EA Play event in Los Angeles, California. If it's a full trailer then expect some time dedicated to showcasing some actual gameplay at EA Play. Either way, no matter how you slice it, Battlefield fans win.
Rumors are currently running rampant that the next Battlefield will take place during World War I. If that's the case then it could make for a very interesting time period and a very interesting setting. There are wars from all eras of human history spanning the whole globe, so it would be nice to see something different given all the sci-fi themed shooters we've been receiving lately.
While you wait for more news on the newest Battlefield you can grab the free DLC for Battlefield 4 and Battlefield Hardline. If you're not subscribed to EA Access or Origin Access, you can still get a free piece of DLC on PS4. If you are subscribed to either service then the four free packs are available to PC and Xbox One users.
Staff Writer at CinemaBlend.
Your Daily Blend of Entertainment News
Thank you for signing up to CinemaBlend. You will receive a verification email shortly.
There was a problem. Please refresh the page and try again.