One Red Dead Redemption 2 Side Quest Is Based On An Actual Serial Killer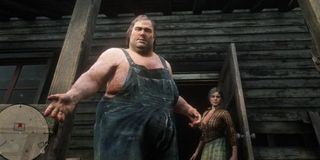 (Image credit: Rockstar Games)
There's a lot of history and a lot of lore tucked away inside of Rockstar Games' Red Dead Redemption 2. Some of it is kind of outlandish, which keeps in fitting with Rockstar's oftentimes satirical take on open-world gaming, but sometimes there's an element of truth and actual history to it, like one side-quest in Red Dead 2 that's based on an actual serial killer.
There's a Twitter Moment that recounts a story about one of the side-quests in the game being based on an actual bit of history involving a serial killer. Twitter user Mike Stuchbery put the moment together, which outlines how a family of killers who lived in Kansas from 1871 and 1873 are mirrored in Red Dead Redemption 2 as a historical Easter Egg.
There are spoilers ahead, so if you haven't reached that point in the game, maybe you should turn back now. For everyone else interested, read on.
So if you visit the Aberdeen Pig Farm near Pleasance, you'll come upon a fellow named Bray Aberdeen and his wife, Tammy. However, it turns out that Bray and Tammy are also brother and sister. Yeah, it's one of those relationships.
If you decide to go upstairs, it's explained that there might be a roll of hay you can use as a bed after dinner and drinks. However, the drinks are spiked and you'll end up passing out only to wake up in a mass grave. You can either go back in and kill the Aberdeens or flee from the farm.
In real life, apparently, not everyone had the pleasure of escaping from the mass grave like you can in Rockstar Games' Red Dead Redemption 2. Instead, the real-life story involves a group named the Benders, who were a German family who lived in Kansas during the 1870s, operating a nearby guesthouse as well. It was noted that the son and daughter, John Jr., and Kate, were supposedly a little closer than what a brother and sister should be.
Many folks apparently went missing around those parts, especially those who paid a visit to the guesthouse. Years later, in 1873, investigators finally went out to the Benders' abode, only to find that all those missing people were no longer missing, as they were firmly packed into the dirt floor... or at least, their blood was.
According to the story, the skulls of the victim were crushed and their throats had been slit. Some of the belongings of the missing individuals were recovered from the guesthouse, but historians believe that the more expensive belongings were pawned off or sold in larger towns.
The story was that vigilantes came from far and wide to hunt down the Benders, but they were unable to find them. They did, however, manage to recover eight bodies from the property.
It's a pretty frightening tale, and back then you didn't have cell phones or text messages to call of help while trapped out in the middle of nowhere. Luckily gamers don't have to relive those experiences in real-life, but get an opportunity to vicariously experience similar stories in Rockstar's open-world Western. Red Dead Redemption 2 is available right now for the Xbox One and PS4.
Staff Writer at CinemaBlend.
Your Daily Blend of Entertainment News
Thank you for signing up to CinemaBlend. You will receive a verification email shortly.
There was a problem. Please refresh the page and try again.