Spawn May Finally Appear In The Mortal Kombat Franchise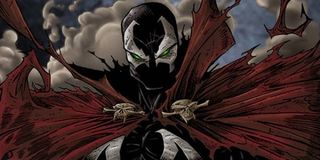 It looks like Spawn might finally be making his way into the world of Mortal Kombat, and that's coming directly from the character's creator, Todd McFarlane. An agent of hell punching faces in Outworld? Yes, please.
Todd McFarlane -- best known for creating Spawn, co-creating Venom, and even being the first guy to draw Spider-Man moving around more like a spider than a man -- recently popped onto Reddit to host an Ask Me Anything with the community. Despite the fact that he even introduced himself as "co-creator of Venom," the big question that popped to the top of the conversation was whether or not Spawn will make an appearance in the upcoming fighting game, Mortal Kombat 11.
Todd McFarlane is a pretty direct guy and simply said, "I believe he's on his way..." Plenty of folks shared their enthusiasm for the news in the following comments, along with requests to see Spawn in another standalone game at some point.
If you're unfamiliar with the character of Spawn, he's actually a perfect fit for the Mortal Kombat universe. A soldier with a lot of guilt on his shoulders known as Al Simmons in life, this perfect killing machine was murdered by his best friend and then recruited to serve as a leader in Hell's army. The character has an extremely sinister design, complete with a cape and chains that can be used in all sorts of violent ways.
Spawn has been going strong in comic form for decades, had a popular anime based on him, and has even appeared in the SoulCalibur fighting game series. There was also a live-action movie that got terrible reviews but, hey, I kind of loved it as a kid. Given the fact that a new Spawn movie is in the works, it makes sense that Todd McFarlane would want to get the character back out in conversation.
But while plenty of other characters have appeared in Mortal Kombat games -- Predator, Jason Voorhees, Freddy Krueger, and more -- Spawn has always been on the player wish-list but never invited to the fight. It's worth noting, however, that a deal was struck back in 2015 to get Spawn into Mortal Kombat X but, for reasons unknown, that never actually happened. But with that arrangement in place and based on Todd McFarlane's claim that he believes it's going down this time around, maybe we'll finally get the brutal badass in Mortal Kombat 11.
As for the new Mortal Kombat, it's coming out very soon -- even though it was only just recently announced. During last week's airing of The Game Awards, Ed Boon walked out on stage to present the honors for the best sports/racing game. In the middle of his presentation, though, the lights went down and we got an official announcement for MK11, which is due out on April 23 for the PlayStation 4, Xbox One, PC and, somehow, even the Nintendo Switch.
Staff Writer for CinemaBlend.
Your Daily Blend of Entertainment News
Thank you for signing up to CinemaBlend. You will receive a verification email shortly.
There was a problem. Please refresh the page and try again.