A New Mortal Kombat May Be On The Way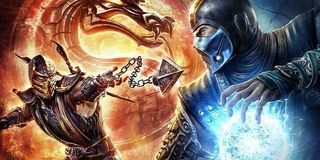 A new entry in the Mortal Kombat series may have been outed by a voice actor, though nothing official has been announced by NetherRealm Studios at this time.
At this point, I'm starting to wonder if we're ever going to find out about a new game from the actual developer ever again. It seems like everything gets leaked early because of someone's LinkedIn profile, a comment on social media, a member of the development or promotional team with low morals or, in the case of a possible new Mortal Kombat game, a voice actor.
Gameinformer recently picked up on a foot-in-mouth scenario featuring Spanish-language voice actor Jose Eduardo Garza Escudero, better known as Lalo Garza. It sounds like Garza was expecting to land a couple of roles in an upcoming game and, when that fell through, he took to social media to vent his frustrations. The issue is that, in said venting, he seems to have accidentally revealed the next game in the Mortal Kombat fighting series is currently being developed.
Garza's comment was machine translated and it's a bit iffy, but the short version is that he hashtagged Mortal Kombat XI followed by "Goodby Kung Lao and Reptile." When folks' ears perked up at this, he later stated that he was not certain about the name of the game and had simply decided to call it that, noting it could have been "MKXI, MK10.5, MKXYZ or whatever." Not the strongest cover story, but there you have it. So, again, as with all of these types of stories, please take this news with a grain of salt.
Though, to be fair, whether or not Garza was frustrated and not thinking too clearly, he chose a pretty specific hashtag to use and named two Mortal Kombat characters by name. Even if Netherrealm goes with another name for the next game in the series, it seems pretty plausible that's exactly what Garza was working on. But after this little mishap, it seems unlikely he'll be tapped to work on the series again.
The other factor that supports Garza's claim is that it has been quite a few years since we've had a new Mortal Kombat game and it makes the most sense that series is exactly what the developer is working on right now. They've been alternating for a while now, making a new Mortal Kombat game and following it up with a new Injustice. With the fantastic Injustice 2 launching in May of 2017, this certainly seems like the right timing for a new Mortal Kombat game to be popping up.
With The Game Awards set for early December, that would also be some pretty great timing to make an official announcement for a spring 2019 launch. But, again, try not to get your hopes up too high until Netherrealm or Warner Bros. Interactive Entertainment share some official news.
Staff Writer for CinemaBlend.
Your Daily Blend of Entertainment News
Thank you for signing up to CinemaBlend. You will receive a verification email shortly.
There was a problem. Please refresh the page and try again.