Hitman 2's Holiday Hoarders Event Is Now Live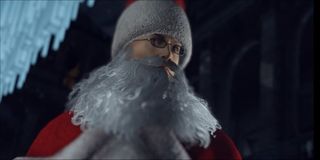 (Image credit: Warner Bros Interactive Entertainment)
IO Interactive and Warner Bros. Interactive Entertainment's release of Hitman 2 didn't quite set the sales charts on fire, but it doesn't mean that they're giving up on the game. In fact, there's a special Holiday Hoarders event that's underway right now, giving gamers a reason to get into the Hitman holiday spirit.
The seasonal event is themed around a holiday mission where Agent 47 is pitted against two thieves named Harry "Smoky" Bagnato and Marv "Slick" Gonif. This takes place during the Paris fashion show, and they've set about stealing presents during the event while everyone is distracted. While Agent 47 isn't necessarily a good guy, apparently he has enough Christmas spirit about his chrome dome to not want to see everyone else's festive mood ruined by no-good-low-down-dirty thieves.
Agent 47 is tasked with tracking down and stopping Smoky and Slick before they make off with all of the presents. As usual, players will have to play it smart and avoid alerting local security or enforcement agents while attempting to incapacitate the duo.
You'll also gain access to the Santa 47 outfit, which sees the titular Hitman dressed up in the jolly red Santa outfit as he dispenses some mean justice on those who were unfortunate enough to make it on the naughty list. The outfit will also be available in all of the Hitman 2 stages, so you'll be able to go around and take down targets dressed as Santa in any stage.
Now, keep in mind that the Holiday Hoarders event is a limited time event. It'll only be available from December 18th up through January 8th, 2019. So you'll need to act fast and get in on the action before it goes away for good.
It's almost similar to the one-time kill events known as the Elusive Targets, which were rather popular events that took place during the 2016 reboot of IO Interactive's popular Hitman franchise. The Elusive Targets are also still present in Hitman 2, and are rolled out every once in a while, with the more high-profile target being veteran Hollywood actor Sean Bean, who took a very cool role as a former MI5 agent who went rogue and became a mercenary for hire, using the subterfuge of fake deaths to not only take out his target but also stay under the radar.
Some of you may have noted that the Holiday Hoarders event takes place at the Paris fashion show. And as many of you know, that was a stage that was present in the original Hitman that came out in 2016. The French stage will be available for anyone who already owns the original 2016 outing, but even if you don't, you can still get your hands on it for free for a limited time while the Holiday Hoarders event is taking place. So, even if all you own is Hitman 2, the stage will be free to download.
You'll find the Holiday Hoarders event live right now, along with the roll out of update 2.12 for home consoles and PC. IO Interactive made a number of changes and updates to the game with update 2.12, which is outlined over on the IO Interactive website.
Your Daily Blend of Entertainment News
Staff Writer at CinemaBlend.