Elusive Targets Are Returning To Hitman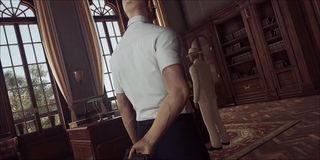 IO Interactive being back in charge of the Hitman franchise and away from Square Enix means that the developers can do whatever it is it wants without having to worry about publisher oversight. Well, one of the first things that IO is doing is bringing the Elusive Targets back to the 2016 reboot of Hitman.
The Elusive Targets making a comeback were announced via a trailer called Elusive Targets: Reactivated, which was posted up over on the official Hitman YouTube channel.
The trailer is only 55 seconds long but it manages to squeeze in all of the Elusive Targets that will be reactivated for owners of Hitman's full season. This will bring back all of the previous Elusive Targets who were only available for a limited time for one time only. Except, I suppose you could say that they're only going to be available twice.
The first Elusive Target, The Forger, is currently available right now as part of the reactivation process. IO will be consistently letting loose a new Elusive Target as part of the process of getting gamers back into the fold.
However, there's a huge trick to this reactivation of the Elusive Targets: If you already own the game and have attempted to kill them and you failed... you don't get to try again.
Essentially, the reactivation of the targets is for everyone who hasn't already tried their hand at Hitman's Elusive Targets. Polygon explains that these targets are for all the new gamers who have purchased the game after the GOTY edition was made available earlier in November, and for people who may not have purchased all of the episodes but recently picked them up and wanted to try their hand at the game.
IO Interactive and Square Enix originally released the game back in early 2016 and systematically released episodes throughout the year leading up to the full GOTY release a year later.
The episodic approach didn't necessarily go down all that well for gamers who were expecting a full AAA release of Hitman, but after all of the episodes were released gamers took a greater liking to the entry.
The Elusive Targets were an interesting addition to the game, insofar that if you messed up or failed to kill the target, you didn't get a second chance and there was no replay option. To make matters even harder, there's a limited amount of time that players have to kill the targets.
Now that the Elusive Targets are back, gamers have an opportunity to try their hand again at taking out the targets and proving that they're the best of the best. If you've purchased the Hitman game you can take part in the Elusive Target campaign right now and try your hand at taking out the Forger. But remember, you only get one shot at it.
Your Daily Blend of Entertainment News
Staff Writer at CinemaBlend.