Celeste Is Free In January With Games With Gold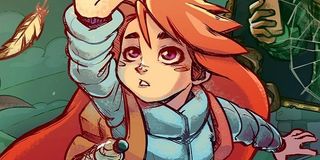 A Game of the Year contender and indie darling, Celeste headlines the first Games with Gold roster of 2019. And if you're into racing, raiding, or shooting, you'll want to check out the rest of what's coming to Xbox beginning January 1.
With the holidays set to kick off, the January Games with Gold lineup has been posted a little earlier than normal over on the Major Nelson blog. The New Year is nearly two weeks away, but it's never too early to get excited for a collection of free games.
Okay, yes, you have to be an Xbox Live Gold subscriber to add these games to your digital collection in January. But when this first month's list of games alone normally sells for $105, the "it's not 'free' if it costs $60" argument is kind of a moot point.
And speaking of games, January's list is pretty-dang solid. The Xbox One games next month include Celeste and WRC 6. A blast from the past, the Xbox 360 offerings include Lara Croft and the Guardian of Light and Far Cry 2. Just as a reminder, those Xbox 360 games are backwards compatible so, if you have an Xbox One, you can snag all four games throughout January.
First up is Celeste, which will be available for Xbox One from January 1-31. If you feel like that game's name has been popping up quite a bit lately, that's because it's finding its way to oodles of Game of the Year lists and was even part of the short list for the top honor during this year's rendition of The Game Awards. Coming from Matt Makes Games, it's certainly a noteworthy feat for when your miniscule team's game can go toe-to-toe with the likes of God of War and Red Dead Redemption 2.
Next up on the Xbox One list is WRC 6, which will be available from Jan. 16 to Feb. 15. This comprehensive racer boasts 14 official rallies as well as official drivers and teams, with 12 stages that were built from the ground up to perfectly mirror their real-world counterparts. If you've gotta go fast, it's worth checking out.
Hopping over to the Xbox 360 list, a couple of super-solid games are being offered for Microsoft's last-gen console. Lara Croft and the Guardian of Light is a fantastic environmental puzzle game that can be played solo, but really shines when you're raiding tombs with a friend. Seriously, it's a blast.
And then there's Far Cry 2, the game that pretty much catapulted the series into popularity. If you want to see where many of today's open-world games drew some inspiration from, it's definitely worth diving back into this big, violent jungle for another adventure.
And that'll do it for this month's Games with Gold. Feel free to share your thoughts about the lineup in the comments below.
Staff Writer for CinemaBlend.
Your Daily Blend of Entertainment News
Thank you for signing up to CinemaBlend. You will receive a verification email shortly.
There was a problem. Please refresh the page and try again.