Games With Gold Brings Watch Dogs, Assassin's Creed III For Free In June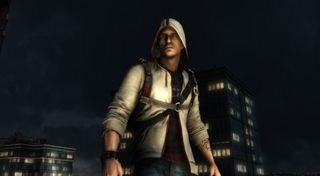 (Image credit: Ubisoft)
It's a Ubisoft month for Xbox gamers when it comes to the free Games With Gold program for June. They've announced that popular last gen and cross-gen titles like Watch Dogs and Assassin's Creed III will be available for those who have Xbox Live Gold.
June's Xbox Live Games With Gold was rolled out by PR front man Major Nelson. The info was detailed over on the official Xbox YouTube channel, where Major Nelson spent just under two minutes in a video detailing the four free games you'll be able to pick up for Xbox 360 and Xbox One, for free.
They start with the indie racing game SpeedRunners. This is a hidden gem that originally came out several years ago on PC. The game is a local or online competitive multiplayer racing game where the objective is to speed through challenging levels, overcoming obstacles and attempting to maintain the lead all while staying on the same screen. It's as crazy and as fun as it sounds. The game is making its debut on the Xbox One for the very first time, and Xbox Live Gold subscribers will be able to pick up a digital copy for free starting June 1st.
If indie games aren't your cup of tea, they actually have something a lot closer to the sort of content that appeals to AAA gamers as well. For instance, starting June 16th you'll be able to get a free digital copy of the original Watch Dogs. This is for the Xbox One, by the way. I know some people might be leery because the original game was actually a cross-gen release, and there were plenty of complaints about downgrades and missing graphical features when Watch Dogs first released.
As far as gaming goes... the hacktion game was praised for having a grounded take on Chicago, along with offering gamers a visually weighty approach to cyber crimes. However, there were also plenty of criticisms for the game's stark lack of activities to partake in outside of the main mission, as well as mundane gunplay and stiff vehicle handling. The multiplayer component of the first Watch Dogs was highly praised, though, since it was a lot more seamless than how other games handle PvP.
Xbox 360 gamers will have access to Assassin's Creed III at the start of June. This game was extremely controversial because some people hated how linear a lot of the missions were, and the fact that it took almost eight hours of gameplay before you even got to play as Connor. However, Assassin's Creed III still has one of the best and smoothest combat systems around. It's a lot more challenging than the whole rapid tapping of 'X' with a side-order of 'Y' in the Batman: Arkham games, and the animation transitions are some of the smoothest in any game on the market with hack-and-slash, melee based combat.
Ubisoft also implemented the very first iteration of the naval aspects in Assassin's Creed III that would later make an appearance in Assassin's Creed: Rogue and Assassin's Creed IV: Black Flag.
The last game on the list for Xbox 360 gamers is Dragon Age: Origins. This game was what kicked-started the high-fantasy franchise so many years ago. It'll be arriving later on in the middle of June.
Both Dragon Age and Assassin's Creed will also be available for Xbox One owners as well due to backwards compatibility, so if you own an Xbox One you get four free games in June.
Additionally, Microsoft is also handing out free DLC throughout June for those playing the remastered version of Phantom Dust on Xbox One.
Staff Writer at CinemaBlend.