The Last Of Us Part II Director Previews Heart-Wrenching Scene Ahead Of Launch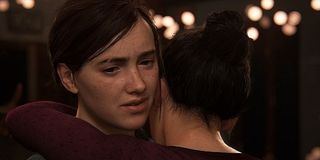 Naughty Dog is still deep into production of The Last of Us Part II. Just before closing shop for the holidays, game director Neil Druckmann took to Twitter to tease some in-game drama.
Neil Druckmann and the entire Naughty Dog team are hitting the road for a winter break, presumably not to return to the studio until the new year. They were working hard right up until the end of the week, though, with plenty of motion capture work breathing life into the game's various cutscenes.
The above image, according to Druckmann, came from a "killer shoot," including what he describes as one of the most complicated and heart-wrenching scenes the team has ever worked on. Wait just a moment, Druckmann. You mean to tell me The Last of Us Part II is going to be an emotional gut-punch of a game? I, for one, am shocked.
In all seriousness, though, I wouldn't have it any other way. Some of the main reasons the original The Last of Us stands out so firmly in my mind are the deep characters, complex relationships and, yes, plenty of drama. Druckmann's tweet included an image that is apparently taken from this heavy scene, featuring Ellie (as portrayed by Ashley Johnson) playing the guitar to Dina (played by Shannon Woodward). As you might recall from the E3 kiss heard round the world, this duo has a romance brewing in The Last of Us Part II.
Looking at the image, it's impossible to know how, exactly, this scene is going to turn out to be so complicated and heart-wrenching. It looks like one is simply serenading the other with a guitar. So, if you'll allow me a moment of complete speculation, I'll share my theory. Okay, it's not my theory, as folks have been screaming this one since the game's first trailer, but I figure it has to do with Joel possibly being dead. There have been hints of Joel in other trailers, but nobody is mentioning him outright. Joel and Ellie share a special bond that frequently demonstrated with the playing of a guitar, so I can't help but wonder if Ellie is filling Dina (and possibly the player) in on what happened to her father figure.
But again, that's complete speculation. Heck, Ellie could be telling Dina about her previous childhood crush, who we learned about in the first game's DLC. Or maybe it's about her mom or any other horribly tragic thing that's happened to her over the years.
Or maybe it's just a sweet scene of romance and vulnerability and I should pump the breaks on all of this pointless guessing and let the game tell me what's going on when the time is appropriate?
Speaking of which, there's still no telling when that's going to happen. Sony cancelled their big December showcase and won't be attending E3 this year, so nobody knows when we'll actually be getting some fresh details about The Last of Us or any other PS4 games. Here's hoping we're not kept waiting much longer.
Staff Writer for CinemaBlend.
Your Daily Blend of Entertainment News
Thank you for signing up to CinemaBlend. You will receive a verification email shortly.
There was a problem. Please refresh the page and try again.