The Last Of Us Part 2 Revealed New Details At PSX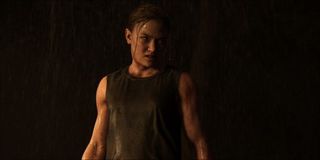 (Image credit: Naughty Dog)
If you've been craving for more information on The Last of Us: Part 2 ever since its original cinematic debut a year ago, you're probably going to be excited to know that some new details about the characters, location and gameplay were revealed at this year's PSX panel in Anaheim, California.
During the panel discussion at PSX (via Game Informer) that involved actors Troy Baker, Ashley Johnson, Westworld's Halley Rose, and director Neil Druckmann, some details about their roles and involvement were further explored.
We gain some details about the characters from the most recent trailer for The Last of Us: Part 2 that was aired during Paris Games Week this year, including the two actors who joined the mysterious, muscled woman who was played by Laura Bailey. The Asian woman and man from the trailer are actually teenage siblings, with Ian Alexander taking on the role of Lev, and Victoria Grace playing the role of Yara. The two of them are quite young as well, with Yara being the older of the two at only 16 years of age. That's right... the young teenager who got her arm smashed to pieces by a hammer was only 16-years-old.
Yara's younger brother, who eventually came to her rescue after she was captured by the cult-like group, is only 13-years-old.
Obviously, the duo are survivor-savvy, since they seemed to know their way around weapons and killing, so they clearly don't belong to any pacifist groups.
We still have no information on the woman Laura Bailey is playing. All we know is that she's fit, she's strong, and she could survive hanging from a noose around her neck. The panel still was not allowed to say her name. Many suspect that the woman may be Ellie's mother, who was not shown in the original Last of Us.
We also learn that it's several years later and Ellie is indeed 19-years-old this time around. So she's still fairly young, but not as young as she was in the first game.
The article also recaps how Druckmann confirmed the location of the Last of Us: Part 2, signifying that it does indeed take place in Seattle, Washington.
Obviously, the Seattle part isn't anything new, and most astute gamers put together some snazzy cartography skills to figure out where exactly in Seattle some of the concept images and locations were. When it comes to creating faux-ARGs out of nothing, gamers will do just that and then take it a step further and solve the puzzle when there wasn't one to begin with.
Of particular note, Druckmann confirms that the game is just past the halfway mark and is nearly 60% complete. This doesn't really speak to the time-frame of when we can expect the full release of The Last of Us: Part 2 because we really have no idea what Naughty Dog's dev cycle is like or what kind of resources are being poured into its development. However, the good news is that we can expect something far more substantial on display when June rolls around and the hype machine for E3 gets underway.
Staff Writer at CinemaBlend.
Your Daily Blend of Entertainment News
Thank you for signing up to CinemaBlend. You will receive a verification email shortly.
There was a problem. Please refresh the page and try again.