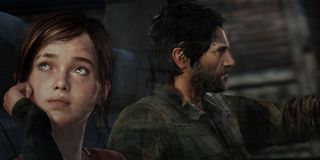 During a surprise Comic Con panel about the Last Of Us film, an audience member inevitably asked a question about Last Of Us 2. Here's what the panel had to say.
Neil Druckmann, creative director of the game and writer of the film, opted not to answer the question (which was literally just, "Last Of Us 2?"). Instead, he turned and posed a question to the film's producer Sam Raimi: should the sequel have new characters or bring back Joel and Ellie?
Raimi replied that he'd prefer the sequel focus on Joel and Ellie. I suspect that a lot of fans agree with that sentiment.
Though Druckmann didn't have anything to say about Last Of Us 2 today, he's said plenty on the subject in the past. Earlier this year, he stated that the game would only star Joel and Ellie if voice actors Troy Baker and Ashley Johnson reprised their roles.
"I'd probably reconsider the story [if Troy and Ashley didn't return]. They are Joel and Ellie to me," he said in a Reddit AmA in February.
Even if Baker and Johnson are willing to come back for Last Of Us 2, though, that doesn't mean the game will center on Joel and Ellie. During that Reddit chat, Druckmann said that he's "super proud" of where the first game left Joel and Ellie. It's possible he won't want to compromise that ending with a sequel. The development team at Naughty Dog might opt for a new story with never-before-seen characters instead.
There's also the chance that Last Of Us won't get a sequel at all. Druckmann said in February that he's "50/50" on it. The strong sales and reviews of the first game mean that Sony would gladly bankroll a follow-up, though.
It's possible that Naughty Dog is already working on Last Of Us 2. Co-president Evan Wells revealed in June that the studio has an unannounced project in its "very early pre-production stages." This project is said to be on the scale of Uncharted 4, the PS4 debut of that action-adventure series.
However, this mystery game is a long way from release. If it's in fact Last of Us 2, it's not getting the full attention of Neil Druckmann or Last Of Us game director Neil Druckmann yet. They're leading the development of Uncharted 4 following the departure of its design heads Amy Hennig and Justin Richmond earlier this year.
The Last of Us movie, meanwhile, hasn't started production just yet. During the panel, Raimi revealed that Game of Thrones' Maisie Williams may play Ellie.
This poll is no longer available.
Your Daily Blend of Entertainment News
Staff Writer at CinemaBlend.