The Helena Bonham Carter Character The Actress Thinks Would Survive Call of Duty's New Dead By Night DLC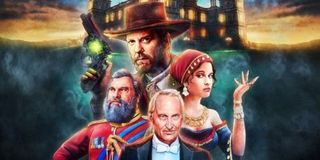 Starring in Call of Duty: Black Ops 4's latest zombies campaign, Dead of the Night, actress Helena Bonham Carter thinks one of her previous roles stands a better chance of surviving undead hordes.
So, a powerful witch from the Harry Potter universe with no qualms about killing children, much less party guests who have been turned into zombies, werewolves and vampires? Yeah, she's probably onto something there and knew it when she talked with us to promote the game earlier this month.
In Dead of the Night, Bonham Carter takes on the role of Madame Mirela, a psychic who maybe isn't being all that honest about her supernatural capabilities. She's joined on the cast by Kiefer Sutherland, Charles Dance ad Brian Blessed, who play a disgraced gunslinger, a butler and a brigadier general, respectively.
What's fun about Bonham Carter's character is that she makes a living claiming she has the ability to speak with the dead. In other words, this ill-fated trip to a mansion party will give her the chance to actually interact with creatures from beyond the grave for the first time, though she'll be "making contact" with a super-charged shotgun rather than a crystal ball.
Bonham Carter has played a lot of badass characters over the years, many of whom would probably be well suited to surviving a night of attacks from monsters. The Red Queen from Alice is handy with an ax and Marla, from Fight Club, seems like the type of person who would adapt well to such an insane scenario. And then there's Julia Hoffman, from Dark Shadows, who would definitely have some familiarity with these types of creatures, or even The Corpse Bride, who would probably be ignored completely by waves of fellow zombies.
Despite all of that, Bonham Carter was quick with an answer when asked which of her motley crew of characters would best be suited to take on an estate crawling with monsters. If you want to beat a monster, your best bet is to send a monster of your own, and Lestrange fits that ticket pretty nicely. As the actress points out, Lestrange is fast, tricky and has little trouble using her magic to lay wasted to those who oppose her.
As for the process of recording for a video game, Bonham Carter sounded like she had a lot of fun getting into the role of Madame Mirela for the latest Call of Duty DLC.
If you would like to join her on that adventure, Dead Of The Night is now available as part of the Call of Duty: Black Ops 4 season pass.
Your Daily Blend of Entertainment News
Staff Writer for CinemaBlend.