Anthem Has Been Officially Delayed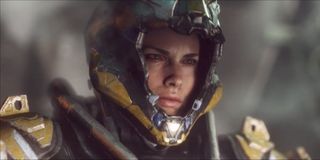 (Image credit: Electronic Arts)
Electronic Arts recently confirmed that Anthem, BioWare's highly anticipated third-person multiplayer shooter, has been delayed. The game was first rumored to have been delayed a short while back, but it was unconfirmed at the time. Well, now Electronic Arts has confirmed that Anthem is officially delayed to early 2019.
The tweet was made by Wall Street Journal reporter Sarah E. Needleman, making notes from the EA conference call. In the post it explains that Electronic Arts has confirmed that Anthem is now scheduled to ship for the PC, PS4 and Xbox One next year, during the first half of 2019.
Originally, the game was planned to release in the fall of 2018, as it had been advertised, but due to the release of a brand new Battlefield game, scheduled in October, the game was pushed out of its fall 2018 window and into the first quarter of 2019.
What's interesting is that EA's chief financial officer, Blake Jorgensen, told the Wall Street Journal that the company doesn't see it as nor is it calling this maneuver a "delay." Jorgensen explicitly says "It's not a delay." According to EA's CFO, "people are trying to create a story."
His comments come on the heels of a story that originated a few days ago about the troublesome development cycle taking place at BioWare's studio, and how things aren't quite coming together the way they should in order to have Anthem completed and up and running for a fall release. The developers claimed that things weren't going so well and that development has been ongoing since 2012. There were some issues adapting Frostbite to the kind of open-world action-RPG that BioWare was making, and there were also issues with honing in on a specific direction to make the whole thing work.
Anthem is essentially supposed to be a powersuit version of Destiny 2. Players will have different suits to choose from with different abilities, and apparently the suits can be upgraded and enhanced to make use of various attacks and support roles. It's pretty obvious the game is tapping into the Halo sci-fi themes, but with the multiplayer of Destiny and the hunting and rewards from games like Monster Hunter World.
Even though the game seems like it could be huge, BioWare had reservations that it could all be completed by the fall of 2018, and that a more realistic release would be March of 2019. The spring window seems to be a common go-to tactic for many of BioWare's releases, including Mass Effect 3 and Mass Effect: Andromeda. However, both titles courted plenty of controversy for one reason or many others.
The gist of the original rumor was that if Anthem doesn't do well upon release, the constitution of BioWare's studio makeup could change drastically. We'll get to find out exactly how well the game is coming together when it finally releases next year in early 2019 for PC, PS4 and Xbox One.
Staff Writer at CinemaBlend.
Your Daily Blend of Entertainment News
Thank you for signing up to CinemaBlend. You will receive a verification email shortly.
There was a problem. Please refresh the page and try again.