Play Star Wars Battlefront II For Free With EA Access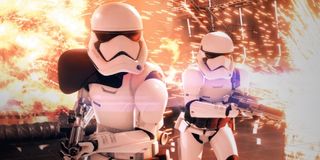 (Image credit: Electronic Arts)
Have you ever managed to get in any play-time with DICE's Star Wars: Battlefront II? It came out last fall but some gamers skipped over it due to all the controversy surrounding the loot boxes. Well, if you were tempted to play the game because you had an itch to dive into a Star Wars game, it's free for a spell with EA Access.
As reported by Gamespot, Star Wars: Battlefront II has joined the EA Access library as a free title for those who are subscribed to the monthly service. You can gain access to EA Access for $5 a month, $30 a year, so it's rather cost-effective for gaining access to a number of different games.
In this case, you would gain access to Star Wars: Battlefront II, among many other titles. This will grant you access to the entire campaign mode, where you take on the role of Iden Versio and the Inferno Squad. Iden starts as an elite servant of the Empire, working as a special soldier who carries out highly sensitive missions for the Empire -- until one day she decides to turn on the Empire.
The campaign follows a variety of playable characters throughout different missions stretching across the great expanse of the galaxy, including playing as iconic characters from the original trilogy, such as Han Solo, Leia Organa, and Lando Calrissian.
Beyond the single-player campaign mode -- which helps fill in some of the missing elements between Return of the Jedi and The Force Awakens by giving gamers and fans of Star Wars a look at what Luke was doing, as well as Kylo Ren's pursuit of Luke -- there's also the multiplayer modes.
Both the single-player and the multiplayer are fully available to EA Access subscribers. The multiplayer for Star Wars: Battlefront II includes Strike, Blast, Starfighter Assault, Heroes vs Villains, Arcade Mode, and Galactic Assault. Each of the modes attempt to hearken back to Pandemic Studios' classic fifth generation release of Star Wars: Battlefront II for PC, PS2, and the OG Xbox.
The game joins a litany of other games available through the EA Access library, including six Battlefield games, the Bejeweled series, the Dead Space trilogy, all of the eighth-generation FIFA games, along with the eighth-generation NBA Live games, and eighth-generation Madden NFL games.
The games available through EA Access are slightly different from what you get with the Origin Access options. The latter only features games released for PC, so games like EA Sports UFC and SSX aren't available, but there are a bunch of different PC exclusives available, such as SimCity and The Sims and the Wing Commander anthology.
If you already have EA Access on the Xbox One, and you've managed to burn through the games available through the digital library, you can grab a digital copy of Star Wars: Battlefront II right now. Now that the game isn't being bombarded with news about loot boxes and microtransactions, it's probably a much safer time to check it out.
Staff Writer at CinemaBlend.
Your Daily Blend of Entertainment News
Thank you for signing up to CinemaBlend. You will receive a verification email shortly.
There was a problem. Please refresh the page and try again.