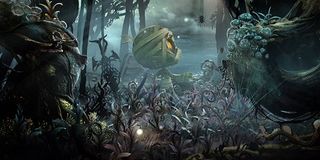 Riot recently released Frequencies, a documentary about the team that creates League of Legends's music. The behind-the-scenes video introduces Christian Linke and the other composers, who not only create the in-game music but also special projects like the "Get Jinxed" music video.
Cinema Blend had the chance to speak with Caleb Slain, the director of the documentary. His previous work includes short films like Welcome to the End of the World and The Lost and Found Shop. Though he's been a gamer since he was little, this is the first time he's made a film based on that passion.
During our free-ranging discussion, we talked about the creation of the documentary, hopes for the Halo movie and, of course, fire ants.
When Riot contacted Caleb about the documentary, he was running from fire ants.
Riot Games first became aware of Caleb Slain when they saw his documentary Juggle & Cut. At the time, he was out in southern India with his brother and "trying to escape a coastal mountain full of fire ants and aggro monkeys," which he assures me isn't an exaggeration.
At first, Caleb and the crew thought they would be making just a 10-minute documentary about League of Legends' music. However, the project soon grew in scope.
"We played with lens abstractions, I dolly gripped a lot, and slowly we got in this zone where the story of these composers began finding us. The principles of creativity espoused by Christian and the gang—exploration, honesty, no preconceived message or objectives—began influencing the ways in which we told their story. It was an amazing feedback loop you could say.
"After 15 days of shooting, we didn't know what it all added up to, but everyone felt pretty certain it was more than a little [behind-the-scenes] video."
You don't need to know music or gaming to watch Frequencies.
Frequencies doesn't start with a long explanation about League of Legends's towers and lanes. There are also no asides about audio mixing or music theory. The lack of technical details was a deliberate decision by the documentary team as well as Riot's composers.
"[Riot] had made a couple BTS videos in the past, and something Christian was vocal about was the need for our film to get at the heart of how music is made, and it is exactly that: a craft of the heart. You don't just bang it out, but feel it out. Most the time it's not even logical, but you have some intangible wavelength you're trying to tune yourself to in order to receive the music from whatever ethereal place music comes from."
The end result of this approach is that you don't need to know much about LoL or music to watch the film. It's designed to be watched by anyone, even someone who doesn't play games.
"I don't know if we succeeded in that, but we really tried."
There's a director's cut of Frequencies with a lot more footage.
Riot's website states that the filmmakers recorded over 70 hours of footage for the documentary. Only a small fraction - 45 minutes - made it into the final version of the film. Caleb says that they could've made a second documentary just focused on Danny Lohner. Lohner, a musician who toured with Nine Inch Nails, contributed to the LoL-inspired rock album Pentakill.
"The full 60-minute version of Frequencies has a whole storyline with Danny Lohner, actually, where he is having some creative struggles solving the track he's working on and subsequently going way over deadline. It's a really sobering moment to see an artist—who's made great music we've all heard—struggling through the creative uncertainty most of us are familiar with."
This director's cut of the film wasn't released by Riot. However, Caleb adds that it's possible we'll see it online someday.
Caleb would love to make the Halo movie.
Caleb is a huge Halo fan, saying that the second and third game in the series "were religion" for him when he was a teenager. His dream project would be to make a film adaptation of Halo - something that's eluded Hollywood for so long. He acknowledges that Halo seems "cursed" in the film world, though.
He'd also love to make a movie out of Final Fantasy IX, one of his favorite games. He calls that project "unlikely" - an understatement considering how badly Square Enix's CGI film Final Fantasy: The Spirits Within flopped.
"And who wouldn't want to see the mesmerizing world of Limbo turned into a film?" he added. "I love games with powerful atmospheres."
Frequencies will probably be Caleb's last gaming documentary.
When I asked Caleb whether he has any other gaming documentary ideas, he joked that "The Post-Modern Philosophy of Crash Bandicoot's Meta-Themes" and "Spyro the Dragon and other Allegories" sounded like a good topics. The truth is, though, that he probably won't make another documentary about games.
"It's not in my heart to repeat terrain, and the prospects of theatrically adapting a game or even directing a gaming project of my own are far more exciting."
"And on that note, if someone at Bungie, Square or PlayDead is reading this.....let's talk."
Special thanks to TRUST and Eskimo Creative Studio for setting up the interview, and to Caleb as well for taking the time to answer our questions.
Your Daily Blend of Entertainment News
Staff Writer at CinemaBlend.