6 Of The Most Entertaining Team Fortress 2 Short Films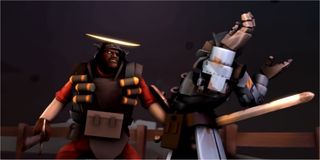 Sometimes it's good to take a step back and appreciate some of the finer things in life... like really violent, well-made, funny, enjoyable movies made using many of the characters, props and assets from Valve's Team Fortress 2.
This short little list of videos celebrate some of the more entertaining short films made using tools like the Source Filmmaker – which is free, by the way, so if you want to exercise your own directorial muscles you can do so by grabbing a copy off of Steam right now. The list works its way up from the cool set of videos from contagiously creative individuals to the absolutely epic from unrivaled minds of a whole other level. You can check out the most entertaining Team Fortress 2 short films right here.
Chinatown Getaway [Saxxy 2013 Winner]
A funny and slightly violent video featuring a scout who infiltrates Blue base and retrieves a special case. He doesn't get far before he's surrounded and has to defend himself in a classic Hong Kong style fight scene. This video was the winner of the 2013 Saxxy Awards, the annual tribute to short films made using Source Filmmaker. There were a few things that could have made it slightly more epic, but it's entertaining enough to deserve a spot on this list.
Scout Vs Spy Tournament Fight
This is one of those videos that can be watched and re-watched and watched again. It's a hilarious depiction of a fight between the Scout and Spy based on Jet Li's fight against a dojo master in the film Fist of Legend, a sort of spiritual remake of Bruce Lee's iconic Chinese Connection. The fight is nearly recreated frame for frame, which is an impressive feat for someone to accomplish using the wonky animation toolset in SFM. What's more is that the sound effects in this video are absolutely hilarious, easily making it one of the very best and entertainment-heavy videos featuring the Team Fortress cast in SFM.
Team Fortress 2 Attack On Titan Intro
Attack on Titan has kind of become a phenomenon all its own. It was recently fused together in a brief machinima with Titanfall and before that it had its own game released on PC and the Nintendo 3DS. There's even a total conversion mod for the anime in Garry's Mod. So it should come as no surprise that the community found it necessary to recreate the TV show's intro in SFM. That TTMR Guy does a superb job with the editing and cutaways, and unlike some other videos on this list, he did all of it within the entirety of the Source Filmmaker. I'm here to tell you that such a feat is a lot harder than it seems, given many of the limited tool functions and features available in the editor.
Stop That Tank!
My goodness do I love this video! It's the sort of thing where the replay button gets ravaged like sheep in a wolf pen. The video is only four minutes long but it's so freaking awesome. There's no talking and the sound effects are kept to a minimum save for the action that transpires near the end, but it's the intensity and the build-up of the video that makes it so awesome. YouTube user Condoriano based this scene on a moment from the battle of Sahaquiel in the movie Rebuild of Evangelion 2.0. I haven't seen the flick but this video almost makes me want to check it out.
Scout Vs Witch
This is such a badass video, but really... these last two videos just about tie. The only reason this video is second-to-last is because it's not quite as long as the final video on the last page, but it's just as epic. This short combines intensity, perfect pacing and some of the coolest fight choreography featured in a digital design space. I mean, who would have thought that you could use a baseball bat like that? Small things like the pistol twirl and the or the slight snnort that the Scout gives at the end just adds a measure of quality to the overall animation aesthetic. It's really great stuff and was designed using a multitude of animation tool suites.
Rise Of The Epic Scout
All right, so while this video doesn't share the same level of complex choreography as the Scout vs Spy video or the Scout vs Witch video, it does contain a heck of a lot of heart and a brief story that builds up to something satisfyingly entertaining and ripe with a feeling of justice, laughs and good times. While all the other videos on this list have short-form stories, this one tells a slightly more engaging tale of a lone scout stuck with idiot teammates that cost him more than just the match. The level of violence is ratcheted up quite high in the video so viewer discretion is advised; however there is a cohesion of the violence (mostly played for laughs) with the overall story that helps bring the characterization of the Scout to life like never before. It's hard not to love every single minute of it.
Your Daily Blend of Entertainment News
Staff Writer at CinemaBlend.