Able-HD Portable Monitor Successfully Kickstarted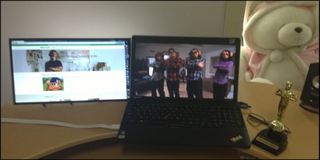 Have you ever been in one of those positions where you had a gaming device but the screen was too small or the area was too dark or you wanted to do some multiplayer but needed a slightly larger monitor? Well, the Able-HD is that portable solution and it's been successfully Kickstarted.
So what is the Able-HD? Well, it's exactly what it sounds like... a portable HD monitor. While this seems like a device you might find already available on the market, sadly it's not quite as prevalent as you might expect. For those of you looking to watch HD movies from your smartphone or play games from your portable device on a slightly larger screen (and maybe with a game controller) the Able-HD provides that exact kind of solution to a problem you didn't know existed.
Nell Harton, The concept and device creator for Able-HD, briefly commented on the device saying...
The device creator originally sought only $5,000 to get things up and going for the Able-HD, but the backers came from near, far and wide, many of which who felt that this device deserved a heck of a lot more than five-thousand big ones and they pledged more than $32,926 as of the writing of this article.
What's impressive, however, is that the monitor really hits home with its 17-inch size and 1080p output while weighing less than a laptop of the same size. It's a pretty sexy visual solution for video/gaming/photo enthusiasts looking for some high quality output while they're on the go.
As mentioned on the Kickstarter page...
So there you go, that answers the question in relation to charging and port affability. The image below also gives you an idea of how you can piggyback the Able-HD onto a smartphone or any other device within the propinquity of the mobile arena.
Come to think of it, this could also be used for dual or multi-monitor setups as well, which could be pretty cool for people looking for a low-cost way to setup a multi-monitor gaming room. We get a brief glimpse of this in the official Kickstarter video, which you can view below. Alternatively, you can learn more about the Able-HD over on the official Kickstarter page.
The device is set to release by October of this year and will be priced for under $150 for anyone looking to get the device who isn't a Kickstarter backer.
Staff Writer at CinemaBlend.
Your Daily Blend of Entertainment News
Thank you for signing up to CinemaBlend. You will receive a verification email shortly.
There was a problem. Please refresh the page and try again.