Alan Wake Confirmed For PC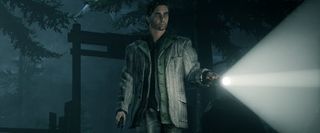 The PC version of Alan Wake, once thought cancelled, is still alive. Remedy Entertainment announced that they're bringing their Xbox 360 thriller to the PC in early 2012 along with its DLC.
In Alan Wake, a writer goes on vacation to the town of Bright Falls with his wife, Alice. He has writer's block and hopes the change of scenery will help him get back to work. His wife soon goes missing and he begins finding pages of a manuscript he doesn't remember writing. The town is invaded by dark forces and Wake must confront them in order to rescue his wife.
Wake was originally announced for the PC and consoles back in 2005. However, the PC version was eventually shelved so that the team could put all of its energy into simply completing the game. It arrived on the Xbox 360 in May 2010.
"Our roots are very much in the PC development but focusing on one platform has allowed us to make the best possible game so in that respect we're very happy focusing on one platform," Remedy managing director Matias Myllyrinne told Gaming Blend early last year.
Two downloadable episodes were released for Wake after its Xbox 360 launch. These episodes, "The Signal" and "The Writer", extended the game's campaign. This DLC will be included in the PC version.
Wake will hit the PC at around the same time that an all-new game, Alan Wake's American Nightmare, debuts on Xbox Live Arcade.
Staff Writer at CinemaBlend.
Your Daily Blend of Entertainment News
Thank you for signing up to CinemaBlend. You will receive a verification email shortly.
There was a problem. Please refresh the page and try again.