Alienware Gaming Laptops To Include Killer Wireless-N 1202 Module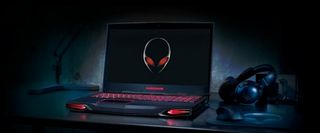 Qualcomm Atheros and Killer Technology have announced that their recently announced Wireless-N 1202 mobile Bluetooh module will be included in the standard packaging of the latest Alienware gaming laptops.
Killer recently let loose the news about their two new network solution devices, and the one device...the Wireless-N 1202 Wi-Fi Module will be included in all upcoming gaming laptops from Alienware.
Mike Cubbage, director of business development, networking business unit, Qualcomm Atheros mentioned in the press release that....
The device enables speeds that far-surpass most other third-party wirelesss network adapter providers, as well as unique user-control over network packets and speed diversification. In other words, you can pick and choose how your bandwidth is distributed amongst various programs using the Killer control panel. Pretty nifty, eh?
Alienware will be including the Killer 2x2 MIMO Wi-Fi module devices in upcoming laptop units, but no official date has been set when you can expect them to go live. Frank Azor, general manager at Alienware simply ended with this little gem...
Well I can't wait to see these in action. Especially with hot-shot games like FireFall, Bullet Run and PlanetSide 2 on the horizon, gamers will have plenty of online competitive games that will need both hardware speed and network speed to get the most out of their performance.
You can learn more about the Killer Technology networking solutions over at their Official Website or you can learn more about the upcoming Alienware gaming laptops to include the Killer tech by visiting the Official Alienware Website.
Staff Writer at CinemaBlend.
Your Daily Blend of Entertainment News
Thank you for signing up to CinemaBlend. You will receive a verification email shortly.
There was a problem. Please refresh the page and try again.