Alliance Of Valiant Arms New Maps, Modes And Weapons Arrive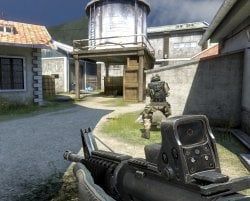 Hailed as an MOFPS, the ijji published first-person shooter designed as a free-to-play alternative to Call of Duty Modern Warfare and running on the Unreal Engine 3, has received new maps, modes and weapons. Gamers tired of playing with the same weapons or on the same maps will now have a few more options at their disposal when it comes to fragging people in A.V.A.
Realistically, though, the high-appeal to Alliance of Valiant Arms is not in its break-neck speed deathmatch modes but in the large variety of cooperative teamplay or PvE modes. The PvP is all standard fare and it's actually done twenty times better in Operation 7, however A.V.A's co-op modes are a heck of a lot of fun and really push the limits on teamwork and arcade-style run-and-gun tactics.
The new content will automatically download when you log-in to play the game. Gamers interested in putting in some time with A.V.A can do so at no charge since the game is free-to-play, just head on over to the Official Website.
New Weapons Added:
• AK47 Hawkeye – A custom variation of the AK-47 available for the Rifle Man character class. It features a faster rate of fire and reduced recoil.
• MP7A1 – A powerful new submachine gun available for the Point Man character class. It fires it's rounds at an ultra-high velocity, providing enough penetrating power to pierce Kevlar.
• FN 57 – A powered-up pistol available to all character classes as a secondary weapon. Its high penetrating power, low recoil and high capacity magazine make it deadly and accurate.
• XP06 Protector – It lessens the stress on joints during intense physical movement and provides players with more stable movements. This item also provides players with a boost to Euros (in-game currency) earned during battle.
Image 1 of 12
Image 2 of 12
Image 3 of 12
Image 4 of 12
Image 5 of 12
Image 6 of 12
Image 7 of 12
Image 8 of 12
Image 9 of 12
Image 10 of 12
Image 11 of 12
Image 12 of 12
Staff Writer at CinemaBlend.
Your Daily Blend of Entertainment News
Thank you for signing up to CinemaBlend. You will receive a verification email shortly.
There was a problem. Please refresh the page and try again.