Amazing Spider-Man 2 Game Trailer Features Kraven, Electro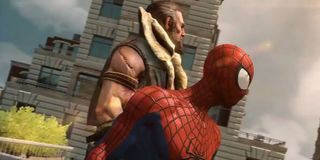 Beenox has released the first full trailer for their Amazing Spider-Man 2 video game. The 80-second trailer reveals that Spidey will encounter both Kraven and Electro in the game.
Kraven is a big game hunter with superhuman physical abilities. He stalked and "killed" Spider-Man in a well-known comic book story arc called "Kraven's Last Hunt." Within this trailer, though, he's playing a mentor role to our hero. I get the feeling this partnership will sour by the end of the game. I mean, why put such an infamous villain in the game and not let us fight him?
Electro appears only briefly at the end of the trailer. He's a former engineer who gained the ability to control electricity after a freak accident. This villain is the main enemy of Spider-Man in the Amazing Spider-Man 2 film so he's probably the big bad of the game as well. Beenox's game is said to be an alternate version of the new film's story, though, so the two plots won't completely match up.
Amazing Spider-Man 2, like its predecessor, is an open-world action game. Players can climb and swing across New York City in search of supervillains and criminals. Beenox has promised more abilities, upgrades and freedom in this sequel. A new "Hero or Menace" feature will track player's moral decisions and alter the world accordingly. There will be negative consequences if you're not diligent about stopping crime.
What intrigues me most about the game is that it allows players to take off the Spider-Man suit on occasion and be Peter Parker. As Parker, they'll use their photojournalist skills to investigate the supervillains terrorizing the city. It sounds a little like Beyond Good and Evil - which would be great because BG&E2 isn't coming out anytime soon.
Amazing Spider-Man 2 will be out this spring on PS4, Xbox One, PS3, Xbox 360, Wii U, 3DS and PC. The release date should be close to the film's May 2nd debut.
Image 1 of 5