Apparently Having Sex With A Video Game Controller Is Something People Like Doing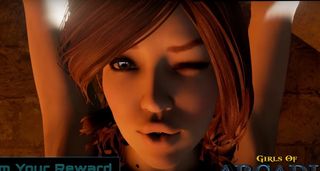 If you're one of those gamers who has always dreamed of gaming technology evolving into a close-to-reality sexual experience with VR, well your wait is over, because the future is now! A company by the name of Virtuadolls has developed a video game controller that will allow men to insert their penises, very much like a fleshlight.
According to Inverse, Virtuadolls is a crowdfunded project on Indiegogo which is currently only compatible with the video game, Girls Of Arcadia. The campaign raised $26,206 in five days, and still has a month left to raise money for the $50,000 goal. At that rate, the goal will easily be met. How could anyone say no?
As previously predicted, the controller does, in fact, look like a fleshlight. But never before has a fleshlight been integrated with a virtual reality video game. The controller will be synchronized with the characters' movements in the video game to make the experience that more realistic. You can check out the campaign trailer below.
As seen in the video, the inside of the sex controller also offers six different textures made from silicone to affect the type of sensation of each stroke. The entire package comes with the controller, the sleeves and a copy of the game, Girls Of Arcadia. And even though the ultimate sexual experience would be with a VR device, a device is not required to play the game.
Gameplay can include things like defeating mythical beasts to "claim your prize" which is of course sex with the hot girl who you rescue from the beast. You can also take part in a simulation mode.
I'm sure many women are wondering "hey, where's my controller?" So Eos Creative, when does the female controller come out? Even the porn industry recognizes its wide range of audience from gay to straight, to both men and women and beyond, so you would think the first VR porn video game controller would also recognize the broad range of audiences interested in the VR porn experience. Eos Creative actually directly tackled this question head on by saying,
So ladies, don't worry, hopefully the female version will be the next major project from Eos Creative. If you're looking to back the project for yourself, Eos Creative offers discreet shipping and anonymous backing if you're the shy type. You can check out the Indiegogo campaign to back it and get more information on the product.