Arma 3 Deploys On PC In 2012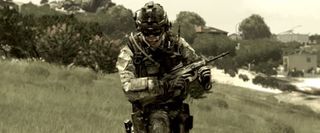 Though many PC exclusive shooters eventually spread to consoles, that's not happening with the Arma series just yet. Bohemia Interactive announced Arma 3 today and revealed it's only coming to the PC in summer of 2012.
In Arma 3, NATO is in the ropes. They're losing their grip on Europe and a desperate special forces mission may be their only hope. A small task force under Cpt. Scott Miller is sent to a Mediterranean island behind enemy lines in hope of recovering a military secret.
Arma 3 lets you control a wide variety of air, land, and sea vehicles. You can also customize your gear load-out so you're prepared for whatever scenario confronts you. Once you've completed the challenges of the single-player campaign, you can build your own with the mission editor. Competitive and cooperative multiplayer modes are also included.
Bohemia will be showing off Arma 3 to press at E3 from June 7th to June 9th. Expect a lot more information to be released on the game at that time. Until then, just ogle the first screenshots below.
Image 1 of 9