Arma 3 System Requirements May Make Your PC Surrender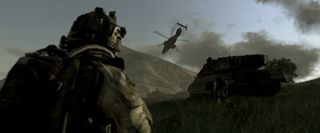 Arma 3 won't be out until 2012 but Bohemia Interactive has already released the system requirements. It seems they want to give you plenty of time to upgrade your PC.
The specs (via PC Gamer) seem pretty demanding. If the game was played by an actor, it would probably be Louis Gossett Jr or that angry drill sergeant from Full Metal Jacket with the show on the History Channel. It's going to whip your puny PC into shape, maggot.
OS – Windows 7 / Vista
CPU – Intel Core i5 or AMD Athlon Phenom X4 or faster
GPU – Nvidia Geforce GTX 260 or ATI Radeon HD 5770, shader Model 3 and 896 MB VRAM, or faster
RAM – 2 GB
HDD – 15 GB free space
DVD – Dual Layer compatible
DirectX® – 10
If you want to know what kind of visuals your computer will be capable of once you get your computer up to code, check out the Arma 3 screenshots released yesterday.
Staff Writer at CinemaBlend.
Your Daily Blend of Entertainment News
Thank you for signing up to CinemaBlend. You will receive a verification email shortly.
There was a problem. Please refresh the page and try again.