Assassin's Creed 3 Now Available For Xbox 360, PS3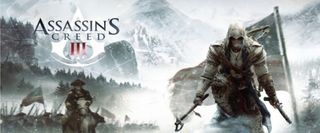 Due out tomorrow in PAL territories, the NTSC version of Assassin's Creed III has officially launched for the Xbox 360 and PS3 today. The game brings fans of the series from the Renaissance era and into the American Revolution, where they'll play a young Native American who grows up to become an assassin.
Much like previous games in the series, the theme is still Assassins versus Templars. Players will help the secret organization fend off secret artifacts from the Church while also advancing their skills as a master killer.
Assassin's Creed III was built from the ground up over the past couple of years, running on Ubisoft's proprietary in-house technology called the Anvil Engine. Not only is the engine the next step for intense gameplay but it's also already primed and ready for the step into the next generation of gaming.
With some brand new naval gameplay, a whole new animation system for Connor, brand new fighting mechanics, advanced parkour and environments designed from the ground up to represent an early colonized eastern-America, Assassin's Creed III has already proven itself to be a heavy hitting AAA title for the fall.
Scoring high ranks in the review scores and currently available for $59.99, die-hard fans of the series probably won't be dissuaded from picking up a copy right now (assuming they haven't already pre-ordered). You can look for the PC version to launch this November. For more information feel free to visit the Official Website.
Staff Writer at CinemaBlend.
Your Daily Blend of Entertainment News
Thank you for signing up to CinemaBlend. You will receive a verification email shortly.
There was a problem. Please refresh the page and try again.