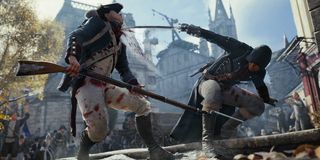 Ubisoft has decided on a way to apologize for Assassin's Creed Unity's myriad launch problems. They're not going to charge for the game's post-launch content.
Everyone who purchased AC Unity on Xbox One, PS4 or PC will get the Dead Kings DLC for free. Dead Kings is a new campaign that takes place after the base game. Players travel to the city of Saint Denis to undertake new missions and earn extra gear for their arsenal.
The problem with this giveaway, though, is that there are a lot of Assassin's Creed Unity players who bought the Season Pass. Instead of simply getting a refund, these players will be able to get one of these games for free soon:
The Crew
Far Cry 4
Watch Dogs
Assassin's Creed Black Flag
Rayman Legends
Just Dance 2015
Because, really, what you want after getting a broken game is another game from the same company.
The free games aren't available yet. The FAQ says that Ubisoft is setting up the system to process this offer now. It's likely a digital download of the game, as the fine print notes you might need an Internet connection to download. The freebie will be limited to the platform that you bought AC Unity for. Also, the specific list of free games "may vary per country and platform."
This might be the most relevant part of the fine print, though: "offer may not be substituted, exchanged, sold or redeemed for cash or other goods or services."
I'm sure that the players willing to wait out AC Unity's problems will be happy with this freebie. In some cases, they're getting a $60 game in exchange for a $30 Season Pass. They're still getting all of the benefits of the Pass, too, like Assassin's Creed Chronicles: China. Still, there are just as many players who would rather have their money back so they can support a company that doesn't sell broken games.
(By the way, if you're hoping to buy the Season Pass now as a way to get Far Cry 4 or some other new game at a discount, you're probably out of luck. Online stores have stopped selling the Pass. You may be able to find it on a store shelf somewhere but your window of opportunity's shrinking quick.)
Assassin's Creed Unity's console versions received their third patch yesterday with fixes for the frame rate, A.I. and matchmaking. Previous patches also fixed crashes, missing faces, inescapable hay carts and more.
"In addition to the latest patch and this offer, we are committed to delivering further fixes for other issues you've raised," said Ubisoft Montreal and Toronto CEO Yannis Mallat in a letter to AC Unity players. "In the meantime, please keep your feedback coming – it has been both humbling and incredibly helpful as we continue working hard to improve the overall quality of the game. We are hopeful that with these forthcoming updates, everyone will be able to truly enjoy their Assassin's Creed Unity experience."
Your Daily Blend of Entertainment News
Staff Writer at CinemaBlend.