Assassin's Creed Unity Season Pass Takes Players To China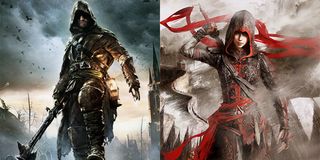 Ubisoft's doing something unusual with the Assassin's Creed Unity Season Pass. The Pass includes access to a standalone game that brings the series to China for the first time.
Assassin's Creed Chronicles: China is a 2.5D side-scroller but seems to have the basic gameplay of the series. There's plenty of parkour, stealth and sword-fighting in the first trailer.
"Players will be transported to the Middle Kingdom in the 16th century, where the last remaining Assassin of the Chinese Brotherhood has returned to her homeland," Ubisoft says of Chronicles. "Players will be immersed in a vibrant setting, inspired by traditional brush paintings and Chinese architecture from a pivotal, historic time period in one of the greatest civilizations in history. Hell-bent on revenge, Shao Jun will use the skills she learned under legendary Assassin Ezio Auditore to exact vengeance."
Shao Jun and her training under Ezio were first introduced in short film Assassin's Creed: Embers. Embers, included with special editions of Assassin's Creed Revelations, shows the end of Ezio's story.
I've been hoping for an Assassin's Creed set in China ever since ChaoyuanXu created that amazing concept art. It's a setting we haven't seen much of in video games. Maybe Ubisoft will follow up on Chronicles with a full-fledged AC game set in China someday.
The Season Pass includes DLC for Assassin's Creed Unity as well. The bulk of this DLC is Dead Kings, a new campaign set after the events of Unity. Our hero Arno heads to the city of Saint Denis. The campaign's title is a reference to the underground tunnels which contain the remains of many deceased French kings. The new story missions and side activities will allow players to earn the Guillotine gun as well as other gear and skills.
The base campaign for Unity is getting new content, too. Three new missions will be added along with 30 other items. One of the new pieces of equipment is the exclusive Fleur de Lys sword, available on day one.
Ubisoft is topping off the Season Pass with one other extra: the double-handed war axe. It seems like the perfect weapon who hates subtlety. Good luck fitting that one up your sleeve.
The Season Pass will cost $30. No word yet on the prices for individual DLC packs. Ubisoft does say, though, that all of the content will be delivered by early 2015.
Image 1 of 5