Assassin's Creed Unity Trailer Announces PS4, Xbox One, PC Release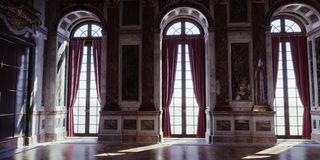 Ubisoft has confirmed that a brand-new Assassin's Creed game is on the way this year. Assassin's Creed Unity will bring the series to a new era: the French Revolution.
Unity's existence was revealed through leaks earlier in the week. Rather than play coy, Ubisoft decided to just announce the game.
"We have been working on the new Assassin's Creed for more than three years and although we weren't quite ready to show you our full vision for a next-gen only AC, it seems Abstergo are trying to force our hand! So here's a true first look at in-game footage from Assassin's Creed Unity. Stay tuned - we'll have many more exciting details for you in the months ahead!"
The trailer flies through the streets of 18th century France. Eventually we see our new hero, wearing the signature hood of an Assassin. He's watching an angry mob below. They're crowded around a guillotine, the closing image of the video.
The French Revolution era started in 1789, a mere six years after the end of Assassin's Creed 3. While I'm sure the mysterious French Assassin has a new trick or two, players can expect the same basic technology. This time period won't provide the same dramatic shift as rumored settings like ancient Egypt or Victorian Era England. Still, Revolutionary era France is a ripe setting with plenty of colorful history to draw on.
Last year's new entry in Assassin's Creed, Assassin's Creed 4: Black Flag, was released on current-gen and last-gen consoles. However, Ubisoft has decided not to develop Unity for the PS3, Xbox 360 or Wii U. Instead, the game will only be available on PS4, Xbox One and PC.
Unity will launch this holiday season. If history's any indication, the release date is sometime in mid-November.
Staff Writer at CinemaBlend.
Your Daily Blend of Entertainment News
Thank you for signing up to CinemaBlend. You will receive a verification email shortly.
There was a problem. Please refresh the page and try again.