Assassin's Creed Unity Now Has Same Release Date As Assassin's Creed Rogue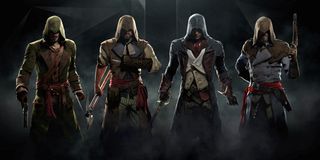 Assassin's Creed Unity won't be out in October as planned. Ubisoft revealed today that they're pushing the new-gen game back for some last-minute polish.
The new release date for Assassin's Creed Unity is now November 11th in the United States and November 13th in EMEA territories. Originally Ubisoft hoped to launch the game on PC, PS4 and Xbox One on October 28th. They cited the new hardware as a reason for the delay.
"This being a fully next-gen game, it requires a lot of work, a lot of production, and a lot of learning," said senior producer Vincent Pontbriand on UbiBlog. "It's always hard to be precise and to quantify exactly how much work is involved. So as we get close to the finish we often realize we're near the target but we're not quite there yet."
He added that many of the core gameplay systems from previous Assassin's Creed games were rebuilt from scratch. The combat, parkour, and mission structure have all been reworked. Then there's the introduction of four-player co-op into the campaign.
"And AC is a huge open-world game. We have thousands of NPCs on screen. We have more depth in the types of AI we've built. The graphics are spectacular. The processes are way more complex. Which makes it exponentially harder to grasp everything than it was in the previous generation."
The extra two weeks won't mean that Assassin's Creed Unity is perfect on launch, though. Ubisoft is actually working on a patch to improve the game. Pontbriand didn't provide any details on what this update changes but confirmed it will be available on day one. Hopefully it's not too massive of a download.
The delay for Unity brings its release dates in line with Assassin's Creed Rogue's. Rogue, in development for Xbox 360 and PS3, features a completely different storyline and setting than its new-gen counterpart. Ubisoft apparently isn't worried about one AC game stealing thunder from the other. In fact, this probably makes their job easier; they can now hype both games' launch date at the same time. "November 11th is Assassin's Day!," etc.
I'm curious to see a comparison of the two games' launch sales. Unity has the shiny new-gen visuals along with several more months of hype. However, Rogue has a lot of interesting features and is being released on older consoles with much larger user bases. Rogue could prove to be the more popular game, at least in the short term.
This poll is no longer available.
Staff Writer at CinemaBlend.
Your Daily Blend of Entertainment News
Thank you for signing up to CinemaBlend. You will receive a verification email shortly.
There was a problem. Please refresh the page and try again.