The Avengers to Become Console Game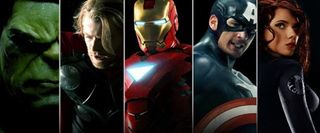 With The Avengers shaping up to be one of 2012's biggest hits -- especially judging its early critical performance results -- it may be a surprise to some that a title based on one of Marvel's biggest properties isn't being accompanied with a video game tie-in. Although Marvel's previous entities such as SEGA's Captain America and Thor received video game adaptions, pushing a title to meet the release of its movie counterpart, which more than often compromises quality, isn't how Marvel plan to develop an Avengers game. Instead, they'll be taking the approach of waiting for the right to time to launch it in order to give it as much development space as it needs to be a rare quality Marvel movie-based game.
While The Avengers is approaching its hotly anticipated May 4th release date, a console version of the superheroes movie has yet to come into fruition. However, that may soon change.
"We launched Marvel: Avengers Alliance on Facebook; which is just the tip of the iceberg," said TQ Jefferson, vice president of games production for Marvel, to Forbes. "This is the first in a much larger effort to support the Avengers franchise across not just one but multiple video game touch points. The Avengers are bigger than just one game, and we're planning to allow consumers to enjoy The Avengers regardless of their preference in gameplay style or platform. Look for more announcements in the weeks to come."
The Avengers has actually already existed in video game form on consoles. THQ's video game tie-in for the movie was cancelled after the financially troubled firm shut down the studio that had been working on it.
Footage of the canned game had even emerged and it was certainly looking admirable. The Avengers tie-in footage had been leaked -- showcased below -- which revealed an interesting take on first-person melee combat.
Let's hope the game is in good hands now at Marvel and that it follows the promising direction the cancelled game had.
Your Daily Blend of Entertainment News
Thank you for signing up to CinemaBlend. You will receive a verification email shortly.
There was a problem. Please refresh the page and try again.