Banned Xbox Live Accounts Lose Access To All Xbox One Games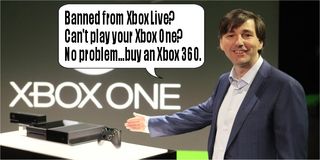 [Update #2: Microsoft has removed all forms of DRM for the Xbox One so account bans won't matter for your disc-based games]
[Update: Xbox's Support states that the comment was in reference to Xbox 360 games...even though you cannot attach disc-based Xbox 360 games as licensed content to your Xbox Live account]
Please, please readers...don't kick my teeth in, I'm just trying to do the good work of Reggie and Kaz, I don't mean to trash the Xbox One, but Ballmer don't pay the bills!
Now...on to the trashing: Xbox's official support outlet has clarified something some of you may have missed or didn't know, and it's that if you get banned from Xbox Live on the Xbox One you will lose access to any and all game licenses tied to your account.
Now this has been one of the biggest questions regarding the Xbox One: What happens to your games when you get banned if they're tied to your Xbox Live account? Well, now you have an answer...you lose your games.
With the question posed by a Mark Doherty to the Xbox One support staff on Twitter, he asked them "If my XBOX LIVE account was banned, would I continue to have access to my XBOX ONE games?", to which the response from the official Xbox Support staff was...
A separate individual asked a similar question to a different staff member of the Xbox Support team, and here was the response they received...
The terms of use was made public shortly after Microsoft unveiled the official Xbox One consumer policies, but a lot of the wording made it difficult for some people to interpret. Well, now you don't need a legal interpreter. You would need to re-purchase all your games again.
This issue is also an identical problem that popped up last year when many Origin users were worried about being banned and losing access to their games. EA, like Satan in a satin jacket and a voice smooth enough to make a baby coo, dropped down real low and said with absolutely sexy confidence "Baby, you can play your games...even when you're banned". The funny part was that they were just following in the footsteps of Valve, who already let you play your games offline even if you were banned.
A similar incident also occurred with Diablo III where people who were banned lost all access to the game and the only alternative -- as it was detailed many months ago during the Linux fiasco -- was to buy the license over again. So yeah, you could always re-buy all your games again.
Unfortunately, the Xbox One has a mandatory 24 hour check-in and you can't use the system without the check-in. What's more is that if the check-in notes that your account is banned...well...that game disc is as good as a coaster. So unlike Steam and Origin, you cannot play your games even if you're banned.
On the upside, for banned Xbox One owners a refreshing game of checkers looks like a lot of fun to play if you live in the countryside, and if you enjoy sitting on the porch during the warm summer days of July while the sun sets in the distance. Just short of that there's always the Xbox 360.
Staff Writer at CinemaBlend.