Batman Arkham City Box Art Released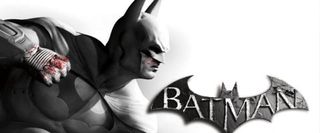 Warner Bros Interactive released the official box art for the upcoming Batman: Arkham City. The box art looks pretty rad, with Batman stooping high up over Gotham in a colorless palette, save for the red blood on his hands. Is this an indicator that the Bats might be faced with potentially killing someone or does he just come really close?
The game itself sees the Dark Knight having to face off against murderous criminals and mastermind villains in a game world that's nearly five times larger than that of the original Arkham Asylum. The "criminal" district of Gotham City, known as Arkham City, contains a large amount of traversable territory, and plenty of opportunities to utilize Batman's stealth and agility for taking down foes.
The real twist to Arkham City is that Catwoman will play a large role in the game's story as well, and players will play the feisty feline as part of a larger story arc. And if you've been living under a rock, Robin will also be playable in the game but only in the challenge modes.
You can check out the new box art for Batman: Arkham City below, which is due out October 18th for the Xbox 360, PS3 and PC. For more info on the Dark Knight's newest interactive adventure feel free to drop by the Official Website.
Image 1 of 3
Image 2 of 3
Image 3 of 3
Staff Writer at CinemaBlend.