Batman: Arkham City Free With Select Nvidia GTX Cards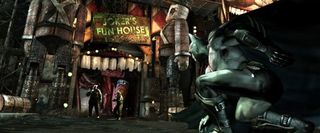 Want one of the hottest upcoming games this fall, for free? Well, you can get your own copy of Batman: Arkham City without paying a dime simply by purchasing a select EVGA Nvidia GTX card today.
Many of the GTX 5xx series cards are currently on sale as part of the promotion, and whether you want a super high-end 5xx card or an economical 5xx card, there are multiple choices available for those of you out there who don't want to spend an arm and a leg for one of the fastest series of video cards currently available on the market today.
As stated in the press release…
Batman: Arkham City sees players returning in the role of the Dark Knight as he tries to uncover a nefarious plot taking place in Gotham. The game also sports additional playable characters, such as Catwoman in the story mode, as well as Robin in a few challenge modes. For PC, the game will make use of many new-age visual and technical advancements, giving gamers with high-end cards a visual treat for the eyes.
The graphics cards that are eligible for EVGA's promotion include the Nvidia GeForce GTX 560, 560 Ti, 570, 580, and the incomparably powerful 590. Amazon, Tiger Direct, New Egg and NCIXUS are the only participating e-tailers in the promotion, and you can learn more by paying a visit to the Official EVGA Website.
Staff Writer at CinemaBlend.
Your Daily Blend of Entertainment News
Thank you for signing up to CinemaBlend. You will receive a verification email shortly.
There was a problem. Please refresh the page and try again.