Batman: Arkham City Goes Gold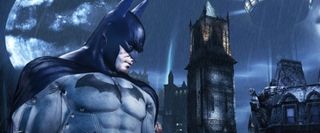 Batman has sharpened his batarang, gassed up the Batmobile, and set his bat-alarm clock. Batman: Arkham City game director Sefton Hill revealed today that development on the action game is now officially complete.
"The big news from Rocksteady is that Batman: Arkham City has now gone gold," said Hill on the Arkham City forums. "Thanks to everyone in the community for your continued support - it made the late nights and weekend work easier knowing you were behind us all the way. I'm really proud of the work the team has done - I'm sure you're going to enjoy it too."
"Now the team are focused on finishing off some really cool DLC but the main news is... Batman is back!"
In Arkham City, a section of Gotham has been turned into a prison colony. Armed mercenaries patrol the walls to prevent escape but allow prisoners to do whatever they wish within the prison itself. In order to save Catwoman, Batman is forced to enter this living hell and face down some of his most dangerous enemies, including the Joker, the Penguin and Mr. Freeze.
Rocksteady has been mum on their post-launch DLC plans so far. No doubt a few standalone challenge maps are planned, similar to the Robin pre-order bonus. Catwoman is a playable character at select moments of the campaign, so perhaps the DLC will give players additional opportunities to step into her shoes.
Earlier today, Rocksteady released a new trailer for Arkham featuring Joker and his loyal companion Harley Quinn. You can check it out over yonder.
Staff Writer at CinemaBlend.
Your Daily Blend of Entertainment News
Thank you for signing up to CinemaBlend. You will receive a verification email shortly.
There was a problem. Please refresh the page and try again.