Battleborn 18 Minute Gameplay Video Unleashes Tons Of Details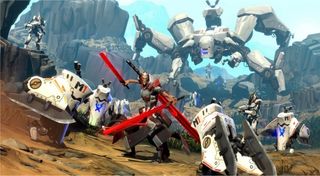 Gearbox Software let loose a new gameplay video for Battleborn, their first-person, multiplayer online battle arena game. The 18 minute video rolls out an entire mission, showcasing different classes in action, as well as having key members from the development team talk about the game and all the different factions.
So there are five factions in total, each one has a subset of characters you can choose to play. The factions also have their own abilities and play-styles, ranging from standard tanks and lane initiators, to damage aggregators and mid-range crowd controllers. There's a faction in there for each kind of player and there's a multitude of characters that should at least appeal to someone, no matter what their gaming preferences are.
The diversity of characters and skills, however, fall victim to a much larger problem: Battleborn looks exceptionally boring. To quote a tame YouTuber (amongst many sharing similar sentiments)...
You know what's bad? I nodded off several times, too. Sorry to say but the combat just literally bored me to sleep. I did, however, kick back into action when the music really got going.
Oh man does that soundtrack come across with all sorts of awesomeness. It sounds like a mix between Blade Runner and Blood Dragon. There's like some Kavinsky tossed in with some Tommy. I'm loving it. It blends perfectly with the action, no matter how boring the action might be.
As for the theme of gameplay... it really does try to combine Borderlands with Monday Night Combat and a bit of Defense of the Ancients. The pace doesn't really work all that well, and when things like the Harvest Defense kick into play, it's just kind of a droll spam-fest. Maybe it was the level they were showing off but it was hard to get excited because there was absolutely nothing "next-gen" about the game at all. If the resolution and graphics fidelity had taken a step back, it's the sort of thing you could very well easily see being on the Xbox 360 and PS3.
I guess after seeing games like Lords of the Fallen attempting to add more physics-based combat into the fold, or games like Alien: Isolation utilizing advanced A.I., and emergent techniques into the gameplay, you just kind of expect... more. Especially from AAA studios pumping out new intellectual properties.
I can't say that all of it was bad, though. As I mentioned, the music is rocking. I also loved Thorn's bow-skills – that was pretty sweet looking. The knife-throwing wasn't bad, either.
I wasn't much of a fan of the boss fight, though. It's the sort of samey, raid-boss style gameplay we've been facing down against for years in Korean WoW clones.
I hate to say it, but right now Battleborn is looking like a hackneyed FPS grind-fest. Maybe Gearbox will alter that depiction with something a bit more significant when it comes time for the game to release in early 2015 for the Xbox One, PS4 and PC.
Need more info? Feel free to visit the official website.
Staff Writer at CinemaBlend.
Your Daily Blend of Entertainment News
Thank you for signing up to CinemaBlend. You will receive a verification email shortly.
There was a problem. Please refresh the page and try again.