Borderlands: The Pre-Sequel DLC Will Add New Characters, Missions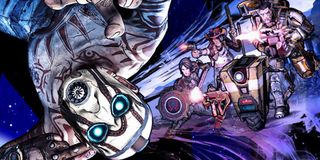 Gearbox Software has a lot of DLC planned for Borderlands: The Pre-Sequel. The co-op shooter will receive four add-ons following its launch later this fall.
"The four add-on content packs will encompass new characters, challenges, missions, and experiences," Gearbox said. "As Borderlands: The Pre-Sequel nears completion and the team shifts its focus to add-on content, additional details will be announced as development progresses. Each add-on content pack will retail individually for $9.99 on all available platforms."
Players can also opt for a Season Pass, which gives you access to each DLC pack as they're released. The Pass is $29.99, meaning it's ten bucks cheaper than buying every add-on on its own. It's also $30 more expensive than not buying any DLC whatsoever but hey, that's up to you.
Borderlands 2 also had four Season Pass DLC packs. All of those add-ons brought players to new. The big difference seems to be that The Pre-Sequel' Pass includes playable characters. Borderlands 2's two post-launch characters, Krieg and Gaige, had to be purchased separately.
Pre-ordering Borderlands: The Pre-Sequel also nets you an additional bonus DLC pack: the Shock Drop Slaughter Pit. It sounds like a combat arena, similar to the Creature Slaughter Dome from B2.
"Taking place in an old Dahl facility on Pandora's moon, players will meet TR4-NU, who once was one of Dahl's military recruiters until he went crazy. TR4-NU is now hosting the Shock Drop Slaughter Pit and giving awesome loot to those who succeed against the moon's toughest enemies. The Shock Drop Slaughter Pit will not be included in the Borderlands: The Pre-Sequel Season Pass, but it will be available for purchase at a later date, for those who do not pre-order Borderlands: The Pre-Sequel."
It's easy to see why 2K would copy Borderlands 2's DLC strategy for the follow-up game. An increasing amount of the company's revenue is from digital sales of post-launch content. By releasing multiple DLC packs after Pre-Sequel's launch, they can ensure that money's still streaming in months after the game hits stores.
Borderlands: The Pre-Sequel is set between the events of the first two Borderlands. The players take on the role of four unsavory characters helping Handsome Jack as he takes control of the Hyperion Corporation. They'll battle across the surface of Pandora's moon with a wide range of weapons, including laser and ice guns. Players will have to learn to adapt to the low-gravity environments and turn them to their advantage as well.
The Pre-Sequel will launch on October 14th in North America and on the 17th in Europe. The game will be available on PS3, Xbox 360, and PC.
Your Daily Blend of Entertainment News
Staff Writer at CinemaBlend.