Battlefield 4 Beta Preloading Begins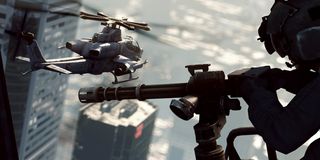 If you're planning to play the Battlefield 4 beta on PC, you can start downloading the files right now. DICE has opened up pre-loading for the early access beta through Origin.
The early access beta for BF4 will launch on October 1st at 4AM EST. In order to participate, you need to have purchased Battlefield 3 Premium, pre-ordered the Battlefield 4 Digital Deluxe Edition on Origin, or bought Medal of Honor Warfighter. It's being held on Xbox 360, PS3 and PC but only the PC beta offers pre-loading. If you're a BF3 Premium membership, you'll get access to whatever platform your membership is tied to.
The beta allows players to test out Siege of Shanghai, one of ten multiplayer maps that will ship with the game. Domination mode will offer infantry-only, close-quarters battles. In Conquest mode, players will also have access to land, air and sea vehicles. They'll get to see for themselves whether DICE has really revamped naval warfare.
The new feature of Levolution is also on full display here. In this game, players can do more than smash through walls or topple small buildings. In "Siege of Shanghai," they can bring down an entire skyscraper and dramatically reshape the map. Levolution also extends to smaller player choices like lowering shutter gates or raising bollards.
The system requirements for the PC version of Battlefield 4 are below. They're a noticeable step up from BF3's requirements so if you were only barely running the game last time around, you might need to upgrade in order to handle BF4.
Minimum
OS: Windows Vita SP2 32-Bit (with KB971512 platform update)
Processor: AMD Athlon X2 2.8 GHz or Intel Core 2 Duo 2.4 GHz
Memory: 4 GB
Graphics Card: AMD Radeon 3870 or NVIDIA GeForce 8800 GT
Graphics Memory: 512 MB
Hard Drive: 30 GB
Recommended
OS: Windows 8 64-Bit
Processor: AMD Six-Core CPU or Intel Quad-Core CPU
Memory: 8 GB
Graphics Card: AND Radeon 7870 or NvIDIA GeForce GT 660
Graphics Memory: 3 GB
Hard Drive: 30 GB
The beta will be opened up to the general public on October 4th. It will conclude on October 15th. In addition to getting some valuable experience with multiplayer, beta testers will also earn an exclusive in-game dog tag that says "Was There, Did That."
Image 1 of 3
Image 2 of 3
Image 3 of 3
Staff Writer at CinemaBlend.
Your Daily Blend of Entertainment News
Thank you for signing up to CinemaBlend. You will receive a verification email shortly.
There was a problem. Please refresh the page and try again.