Bethesda Kills Fallout Online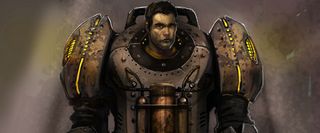 Interplay's upcoming MMO, dubbed "Project V13," will not be a Fallout game after all. Bethesda announced today that they've bought back the rights to develop a Fallout MMO from Interplay for $2 million. The settlement ends several years of legal squabbling between the two companies.
As you may know, Interplay was the original publisher and developer of the Fallout series. They sold the series' rights to Bethesda in 2007, but retained the MMO rights. However, their right to make a Fallout MMO rested on two conditions: that Interplay would secure $30 million in financing for the game and start full-scale development by April 2009. Bethesda filed a lawsuit stating that Interplay failed to fulfill either requirement and that the MMO rights should revert back to them.
Interplay can continue to sell Fallout, Fallout 2 and Fallout Tactics. However, there's a time limit on that. Bethesda will have sole right to market these games starting on January 1st, 2014.
"While we strongly believe in the merits of our suits, we are pleased to avoid the distraction and expense of litigation while completely resolving all claims to the Fallout IP," said Robert Altman, Chairman and CEO of Bethesda's parent ZeniMax. "Fallout is an important property of ZeniMax and we are now able to develop future Fallout titles for our fans without third party involvement or the overhang of others' legal claims."
"Project V13", also referred to as Fallout Online, was being co-developed by Interplay and Masthead Studios. It was said to utilize the engine that Masthead developed for Earthrise, another post-apocalyptic MMORPG. Interplay claimed that a public beta would launch in 2012.
Interplay has yet to comment on the lawsuit. It's possible they'll still complete the game without the license. Either way, the dream of a Fallout MMO is dead for now.
Your Daily Blend of Entertainment News
Staff Writer at CinemaBlend.
Your Daily Blend of Entertainment News
Thank you for signing up to CinemaBlend. You will receive a verification email shortly.
There was a problem. Please refresh the page and try again.