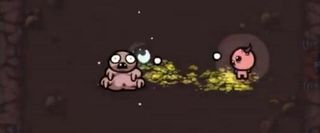 A trailer for Edmund McMillen and Florian Himsl's The Binding of Isaac was released today. The trailer shows gameplay from the retro adventure game. Also, there's a naked crying guy.
The bizarre trailer was created by James Id. He's the one who made the trailer for SMB. Strange as the video is, it actually does fit with the story of the game:
"When Isaac's mother starts hearing the voice of God demanding a sacrifice be made to prove her faith, Isaac escapes into the basement facing droves of deranged enemies, lost brothers and sisters, his fears, and eventually his mother," reads a description of the game from James Id's website.
The game is a top-down shooter, reminiscent of Legend of Zelda or Smash TV. The levels are randomly-generated. Over time, the player will collect powerups and weapons to make their character stronger.
Binding of Isaac will be released through Steam for PC and Mac in September. A Linux version will be coming eventually.
Your Daily Blend of Entertainment News
Staff Writer at CinemaBlend.