BioShock Infinite Now Free On Xbox 360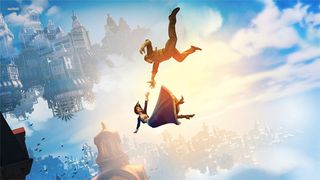 If you own an Xbox 360 and didn't download your free copy of Tomb Raider, I have some very bad news; it's no longer available. Luckily, Lara Croft's jungle adventure has been replaced by one of the most philosophically dense video games in history: Bioshock Infinite.
The game will be available for Xbox Live Gold members until the end of the month, but you don't have to finish it before Microsoft pulls it from the marketplace. Once Infinite has been saved to your hard drive, you can take your sweet time (don't forget to collect all the voxophones).
Bioshock Infinite was probably my favorite game from 2013, which is saying a lot because The Last of Us, Tomb Raider, and Grand Theft Auto V were all released that year. But the Bioshock franchise has something that most video games don't: depth.
It takes some flak for being overly heady or philosophically inconsistent, but the fact that those are valid critiques should tell you everything you need to know. It's one of the only games on the market that asks legitimate questions about the way humans should treat one another.
This isn't to say that games like Tomb Raider and The Last of Us aren't compelling. They are. But Bioshock approaches narrative gameplay like Albert Camus approaches fiction (any philosophical fiction nerds out there?). It forces players to question their own motives and skews their perception of the world.
Well, at least it did for me.
After you beat the game (and debate the ending with me on Twitter), you may want to try Infinite's DLC. The season pass comes with three pieces of content: "Clash in the Clouds" and two episodes of "Burial at Sea."
"Clash in the Clouds" revolves around Bioshock's combat system. Players are dropped into a wave-based battle with some of the title's most iconic enemies. It's fun in the same way that Black Ops 2's zombie maps were fun, but it doesn't add anything to the overall narrative.
However, "Burial at Sea" returns players to Rapture, the underwater purgatory from Bioshock and Bioshock 2. It's a noir-ish story that's set in a slightly different universe than the rest of the series, but if you know anything about Bioshock, that shouldn't surprise you.
Unfortunately, the DLC isn't a Games with Gold freebie, so you'll have to cough up some cash for those. But Irrational Games closed its doors last year, so this might he the last Bioshock title that we see.
Eat it up, people.
And if my ringing endorsement isn't enough to convince you to download Bioshock Infinite, maybe this trailer will do the trick:
Your Daily Blend of Entertainment News
Thank you for signing up to CinemaBlend. You will receive a verification email shortly.
There was a problem. Please refresh the page and try again.