BioShock Infinite Developer Irrational Games Is Shutting Down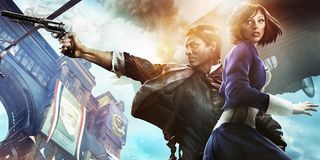 Irrational Games, the studio behind BioShock and BioShock Infinite, is closing its doors. Co-founder and creative director Ken Levine announced today that he's starting a new company.
"I am winding down Irrational Games as you know it," Levine said on the company's website. "I'll be starting a smaller, more entrepreneurial endeavor at Take-Two. That is going to mean parting ways with all but about fifteen members of the Irrational team. There's no great way to lay people off, and our first concern is to make sure that the people who are leaving have as much support as we can give them during this transition."
Levine said that they're giving laid off employees access to the studio so that they can assemble portfolios. Irrational is also inviting other studios to visit and speak with these departing team members about new opportunities.
The new Take-Two studio will be announced soon. Its focus will be "narrative-driven and "highly replayable" games for the core audience. These games will be exclusively digital.
"When I first contemplated what I wanted to do, it became very clear to me that we were going to need a long period of design. Initially, I thought the only way to build this venture was with a classical startup model, a risk I was prepared to take. But when I talked to Take-Two about the idea, they convinced me that there was no better place to pursue this new chapter than within their walls. After all, they're the ones who believed in and supported BioShock in the first place."
Replayable, narrative-driven game sounds like an oxymoron at first. A lot of story-centric games lose their luster after one play-through. Games with multiple paths are the obvious exception, though. Will Levine and his team follow Telltale Games' model and make short, episodic releases driven by player decisions?
Levine's studio won't be working on additional BioShock games. He says that he handed off the series to 2K so that they can focus on new projects. It's unclear which 2K studio will be in charge of the franchise moving forward.
Irrational was founded in 1997 by Levine, Jonathan Chey, and Robert Fermier. The three were former employees of Looking Glass Studios, the creator of the Thief and System Shock series. Irrational's releases aside from the BioShock series included System Shock 2, Tribes Vengeance, and Freedom Force.
Irrational's most recent release was BioShock Infinite, which garnered strong sales and reviews. The studio is currently finishing up the game's DLC campaign, Burial at Sea. The first episode was released in November. The second and final episode of Burial will be released on March 25th on PS3, Xbox 360 and PC.
Staff Writer at CinemaBlend.
Your Daily Blend of Entertainment News
Thank you for signing up to CinemaBlend. You will receive a verification email shortly.
There was a problem. Please refresh the page and try again.