Blacklight Retribution Gets PS4 Post-Beta Details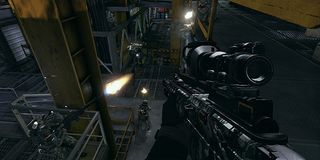 Zombie Studios have announced final details on the PlayStation 4 beta of Blacklight: Retribution, including plans to move forward without wiping player progress and basically giving everyone the opportunity to double down on any real-world money they spend in the game.
I wrote a little while back that Blacklight was becoming my go-to game on the PlayStation 4 and, now that the console has been out for a good month, that remains the case. It's now easy to join a match, the shooting is fast and fun, the maps are pretty good and the modes offer up pretty much everything you would want out of a shooter including deathmatch, capture the flag, kill confirmed and zone control.
Most importantly, Blacklight is free to play, meaning that you have access to all of this shooting goodness at no charge. Players earn in-game credit simply by playing, but the trick is that you need to play a lot (and I mean A LOT) if you hope to ever unlock more gear simply by playing. You can speed up that process, though, by spending some real-world cash. A few dollars here will get you a new gun nice and early or a buck there will get you some new cosmetic upgrades. Don't think of it as pay to win, though, as the gun everyone starts with is one of the most well-balanced in the game and can be modded (for much less currency in-game or real world) to your liking. Sure, the support gear you'll need to unlock can come in handy, but that's not anything you absolutely have to have if you want to have a good time.
The tricky thing about a beta is that you never know what the end game is going to be. Will the developers wipe the servers and all of your progress in the process? What about all of those digital good you spent your actual money on? Will those still be around?
Zombie Studios Associate Producer Kael Hammond addressed those very questions recently on the PlayStation Blog, putting beta players' minds at ease with some surprisingly good news.
"Yes, we have seen your tweets, emails and Facebook posts, and the answer to those burning thoughts and nagging questions revolving around how the end of the Beta is going to affect BLR players is at hand," Hammond explained. "What will happen to your Zcoins and what, pray tell, will the future hold for your inventor?"
Hammond goes on to make three points concerning that matter, including the fact that players will not lose any of their purchases, whether they were made with ZCoin (real money) or GP (earned by playing). Also, your character's progress will not be reset. In other words, a few extra features and tweaks will be switched on when Blacklight exits beta, but you'll play on as if nothing has happened.
Finally, and easily some of the coolest news in beta history, is the fact that your ZCoins will be refunded once the game goes live. In other words, say you decide to buy $20 worth of ZCoin during the beta and spend it on a bunch of gear. Well, once the game exits beta, those $20 will pop back up in your account for you to spend all over again. Now THAT is how you build good will among your community of players.
Staff Writer for CinemaBlend.
Your Daily Blend of Entertainment News
Thank you for signing up to CinemaBlend. You will receive a verification email shortly.
There was a problem. Please refresh the page and try again.