Bohemia Interactive Says There Are 3 Legit Players For Every 100 Pirates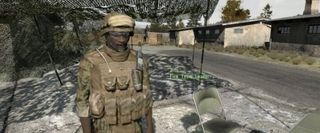 Bohemia Interactive is considered a mid-ranged indie company: they make games that most core gamers know about but you won't see them competing in sales against giants such as Battlefield or Call of Duty, but that doesn't mean piracy doesn't affect them all the same. Recently, in an interview, it was revealed that they have their own measures for monitoring piracy in their Arma series and the numbers showed that for every three legit players there were 100 pirates.
In an interview with PC Gamer [via GI.biz] Bohemia Interactive's CEO Marek Špan?l stated that…
Arma is extremely popular over in Europe, and as we all know according to the flimsy statistics by one company or another -- in this case NewZoo -- it was deduced that 75% of all Russian gamers are pirates. So that partly explains Bohemia's numbers, but not entirely. Ubisoft serves up a more gossamer explanation, stating that 90% of all PC gamers are just pirates in general, which might explain why out of 100 Arma players 97 are pirates.
Bohemia has a slight placeholder to keep pirates at bay, however, using a nifty deterrent for those who acquire the game via nefarious means, with Marek stating that…
That's funny. Legitimately funny.
The only problem is that not every pirate who gets deterred is going to find it in his heart to scrap together some cash to buy the game. Digital PC prices have steadied out for new games at $60 a pop, the same as a retail boxed edition, except you don't get the box and all the contents stored within it. I'm assuming many pirates probably have no intentions whatsoever of buying the game at all, but since they can get it for free they do. In other words, it's just a game to have but not one they may have been eyeing to buy in the first place.
Ultimately, though, there's no way to tell what the purchasing intentions (or lack thereof) are of pirates and whether more or less DRM, in one form or another, even affects a pirate's decision to purchase a game in the end.
Bohemia Interactive has opted out of including DRM in their online store, however, and they are using GOG.com's tactic of using DRM-free digital titles to try to make it as painless as possible for legit PC gamers to purchase their titles.
You can check out the entire interview over at PC Gamer or learn more about Bohemia Interactive and their titles by visiting the Official Website.
Staff Writer at CinemaBlend.
Your Daily Blend of Entertainment News
Thank you for signing up to CinemaBlend. You will receive a verification email shortly.
There was a problem. Please refresh the page and try again.