The Boxed Edition Of Rocket League Will Hit Shelves This Summer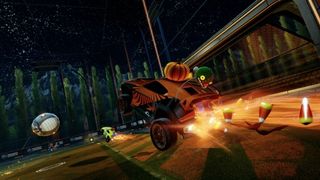 For the longest time, fans have been enjoying Rocket League as a digital game on PlayStation's marketplace. But now, developer Psyonix recently announced that they were finally going to release a physical copy of the game to be sold at retailers, and the date is just around the corner. Rocket League will be officially hitting shelves in July.
Typically, when a digital game happens to do extremely well and fiercely takes over the PlayStation community, they're usually offered a chance to release physical copies. This happened with games like Journey. Really enthusiastic fans spend the extra money to own a physical copy of the game, so why not take advantage of a hugely enthusiastic fanbase?
Rocket League was no different. The craze swept through the console universe and people couldn't stop playing it. Not only is the game hilariously addictive with its multiplayer matches, but it can get painstakingly competitive. At the same time, I've also played some pretty laid back matches, too, so it's not always people slamming into you on purpose to piss you off.
Rocket League proved to be so popular that it's already being considered for esports. There is a Rocket League Championship Series for those who feel like their skills are far more advanced than the average joe, and you can probably find a local group that pits players against each other in a heavily competitive match. When I first played Rocket League, I certainly never thought the game would become so popular, but here we are.
Psyonix announced that Rocket League would be available for cross-console play on the Xbox One and PS4 eventually, so that's something to look forward to in the future.
As aforementioned, the boxed version of the game will be available at retailers in July, so if you really need the physical copy to caress and cuddle when you aren't running competitors off the map, you'll get your chance in just a few months.
Your Daily Blend of Entertainment News
Your Daily Blend of Entertainment News
Thank you for signing up to CinemaBlend. You will receive a verification email shortly.
There was a problem. Please refresh the page and try again.