Rocket League Finally Gets An Xbox One Release Date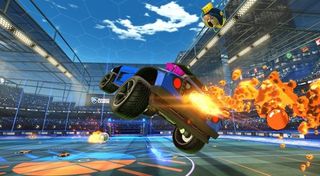 Psyonix hit a gold mine with Rocket League when it launched on the PS4 and PC last summer. The game has gone on to sell several million copies and is now ready for release on the Xbox One starting February 17, next Wednesday.
The news has been spread far and wide after being posted on the Xbox Wire (opens in new tab) by vice president of Psyonix, Jeremy Dunham. A new trailer for Rocket League coming to the Xbox One was also posted that you can check out below.
The teaser trailer shows practically nothing, but it is what's in the news post that makes the biggest difference. Following up on the surprise announcement about Rocket League coming to the Xbox One during the Game Awards hosted by Geoff Keighley, Psyonix has announced that the February 17 release will see the game carrying a $19.99 price point.
According to the post, Psyonix was helped in porting over Rocket League to the Xbox One courtesy of Panic Button. In addition to making the leap to Microsoft's console, there will be additional DLC packs made available for free, including the "Supersonic Fury" pack containing two premium cars, various decals, wheels and paint types, as well as the "Revenge of the Battle-Cars" pack with additional premium cars, and the "Chaos Run" pack, which also contains two premium cars and additional decals, wheels and paint.
Exclusive to the Xbox One are two exclusive vehicles called the "Armadillo" and "HogSticker". During the original announcement for Rocket League's Xbox debut, Psyonix revealed the two vehicles that are based around Halo and Gears of War. They also have various items and trails included from Insomniac Games' Sunset Overdrive.
They boast about the customization features as well, which they claim offers players 100 billion different possible combinations for decking out the vehicle. There's also a fully featured online and offline Season Mode, and a variety of rule-set and multiplayer configurations ranging from one-on-one matches all the way up to four-vs-four bouts in competitive, team-based play sessions.
Rocket League turned out to be the breakout hit of 2015 for PC and PS4, managing more than 5 million downloads over the course of the summer and attaining more than a million purchases on Steam alone. By December in 2015 GameZone (opens in new tab) reported that the game had surpassed $50 million in revenue.
It's very rare that an indie title with very little promotion and almost no marketing presence goes on to sell the way Rocket League has. We'll see if the game can manage the same level of success that it has already achieved on the PS4.
One of the ways that it moved a lot of units the first month out was because it was free for PS Plus subscribers. This time around the game will be launching at $19.99, so there won't be a month of free downloads for Xbox One owners.
Your Daily Blend of Entertainment News
Staff Writer at CinemaBlend.
Your Daily Blend of Entertainment News
Thank you for signing up to CinemaBlend. You will receive a verification email shortly.
There was a problem. Please refresh the page and try again.