Rocket League Is Getting A Hoops Mode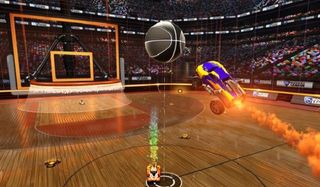 Now that Rocket League has mastered two separate sports and spread to a new platform, it looks like the developers are aiming to take their turbo-charged game to a whole new arena. A basketball arena, to be exact.
To call the following tweeted image a "tease" is something of an understatement. A teaser would be a picture of just a basketball, or maybe a super zoomed-in shot of a basketball hoop or the court itself. Instead, the Rocket League squad decided to just flat out show their new game mode in action, with flying cars duking it out in a brand new basketball arena. Get ready for March Madness to spread to Rocket League.
Needless to say, fans seem to be pretty excited about this latest announcement. A lot of comments were simply variations of "OMG," with one commenter summing up the whole thing in just two words, saying "Dude, basketball!!!" One commenter ever said that this announcement has now convinced them to buy Rocket League, because I suppose the million other reasons I can think of have thus far been inadequate.
And thus Rocket League's domination of multiplayer gaming continues to grow. The game launched last year and basically took the PlayStation 4 community by storm as a Plus title. Fans then fell in love with Rocket League for PC, as well as all the free and for-pay DLC that's continued to roll out.
A couple of new arenas have also been added to the mix, including a pair that completely shift the structure of the field and how you need to play the game. There's even been a set of "lab" game modes, which tweak things like the shape and size of the ball, gravity, the way cars and turbo behaves, etc.
An ice hockey mode was introduced this past winter, substituting the traditional soccer ball with a heavier, more unpredictable puck.
Now it looks like we're getting a basketball mode that, from the single image we've seen, basically turns the net on its side. You'll need to drop the ball into the net to score, but since said net is built as a rap, skillful players will have the ability to knock the ball away before it scores.
That goes to further show how a game with simple, yet deep mechanics can completely change the dynamics of play with a small tweak. If you've never played Rocket League, having a net instead of a goal probably doesn't seem like that big of a change. I'm fairly certain players will have to completely rethink their strategies on a basketball court, though, and can't wait to try it out for myself.
Your Daily Blend of Entertainment News
Staff Writer for CinemaBlend.
Your Daily Blend of Entertainment News
Thank you for signing up to CinemaBlend. You will receive a verification email shortly.
There was a problem. Please refresh the page and try again.